The centerpiece of Tufte's books is his reverential decon­struction of a map by famed illustrator Charles Minard that depicts the movement and dissipation of troops in Napoleon's Russian Campaign of 1812 ("It may well be the best sta­tistical graphic ever drawn," says Tufte). This map, which ap­pears in his first book and is the subject of an entire chapter in his fourth book, is indeed a masterpiece. (See Exhibit 1.) Tufte passionately ex­plains how Minard compiled the best data and incorporated numerous graphic tech­niques, each one precisely chosen, to convey a compelling and complex message with clarity and elegance.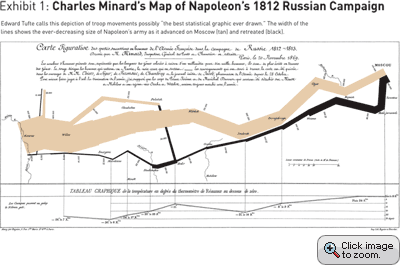 Unfortunately, Tufte's books occasionally contradict his own ar­gument that visual presentations of data should be clear, precise, and efficient — for at times he seems to favor aesthetic beauty over functional design. Tufte writes that he designed the books himself so as to make them "self-exemplifying." He brings an obsessive intensity to his lush, creamy self-published books, which are the ne plus ultra in business/nerd coffee-table tomes. Indeed, they tend to evoke the same drooling awe from geeks and de­signers that doughnuts inspire in Homer Simpson.
Alas, the writing can only be described as prose that a designer would love. When parsing a medi­cal chart, Tufte writes, "These reports fall under the influence of diagnostic fashions prevailing among doctors and coroners in particular places and times, a troublesome adulterant of the evidence purporting to describe the already sometimes ambiguous matter of the exact bodily site of the primary cancer." Communications guru, heal thyself!
Moreover, Tufte's fabricated language for insiders (his shorthand includes words and phrases like chartjunk and avoiding flatland) and crowd-pleasing repetition of his favorite tropes can all too easily repel the managers who would benefit from his ideas.
Wisdom from Comics
What would it take for leading vi­sual teachers to make their craft more useful to managers? A huge step forward would be to marry substance with style — to package a theory about visual language in a book that is equal parts show and tell. That's why Scott McCloud's Understanding Comics: The Invisible Art merits inclusion in this review. Please, dear reader, do not discount this book as a juvenile guide to comic books. McCloud's brilliant work — a comic book that limns comics — is really about learning to see, read, and fully realize the dynamics of words coupled with pictures.
Like Tufte, McCloud has formed a loyal community of fans with his tremendously popular book. Although McCloud's appeal in the early days may have been limited to comic book collectors and wannabe graphic novelists, today, business thinkers recognize that Understanding Comics is a concise and perfectly realized resource for helping individuals put words and images to­gether meaningfully.
"It's considered normal in this society for children to combine words and pictures, so long as they grow out of it," McCloud notes. A book called Understanding Comics may not seem to have a great deal of direct "payoff" for managers. Yet anyone open to the idea of visual management should read this book for the simple benefit of being forced to reexamine his beliefs and habits regarding communication in general.
McCloud explores many of the technical aspects of visual storytelling. He shows how, for example, a visual sequence that jumps from one perspective to another invites the reader to fill in meaning; he takes us on a tour of how literally (or not) artists can represent their subjects. This loving analysis of the craft enables McCloud to accomplish his chief goal: to show how visual storytelling can create meaning in ways no other storytelling method can and thus evoke a powerful response from the reader.