Although any book that discusses new media technology tends to contain 30,000-foot philosophizing (Li and Bernoff advise, Zen-like and in italics, that readers concentrate on the relationships, not the technologies), ultimately what makes this one a must-read and the best marketing book of the year is its practicality. Using more than two dozen case studies from organizations including Dell, Memorial Sloan-Kettering Cancer Center, Unilever, and Lego, the book gives explicit instructions on how to tap into the groundswell, defined here as "a social trend in which people use technologies to get the things they need from each other, rather than from traditional institutions like corporations."
The foundation of the book is a tool called the Social Technographics Profile, available free online, which allows companies to discover whether and how their target customers use social media. This profile identifies target audiences as content Creators; Critics, who comment on already existing products and services or comments; or more passive participants in the groundswell who act as Collectors, Joiners, Spectators, and Inactives. Thus, a company with an Inactive target customer might not require a social strategy at all, whereas a company whose customers tend to be Critics might provide them the opportunity to post ratings and reviews.
The ability to tap into the groundswell may be even more important for companies in crisis, because social media is increasingly contributing to and even starting crises, according to Li and Bernoff. They illustrate this reality with the "Dell Hell" case, which is recounted in exhaustive and instructive detail.
To briefly recap, in 2005, high-profile blogger Jeff Jarvis told the tale in a series of posts of his "lemon" laptop and Dell's failure to repair it. Jarvis's first post, headlined "Dell lies. Dell sucks," garnered more than 250 comments, but that was just the beginning. Soon, thousands of people posted remarks around the Web in support of Jarvis and his blog, and Dell's poor reputation for customer service worsened as consumer complaints about its responsiveness rose to the top ranks in Google searches that included the company's name. It was one of the first digital-age public relations disasters.
To its credit, Dell got the groundswell message. Today, it has a full-blown social media strategy, a staff of more than 40 in its communities and conversations group, a chief blogger, and a commitment from CEO Michael Dell to have an ongoing, authentic relationship with its customers. What Groundswell does particularly effectively, in this instance, is to describe Dell's evolution in terms that make it easy for even the biggest technophobe in corporate America to understand how the company created and executed its strategy, and why it is so important.
The authors also demonstrate how companies can use the groundswell to learn things about their customers they otherwise never would have known. For instance, Memorial Sloan-Kettering discovered through a proprietary online community that its patients did not choose the cancer hospital because of its reputation. The patients, it turned out, were too terrified and distracted to make the decision themselves, and relied heavily on the recommendation of their primary care physicians. This insight led to greatly increased outreach to community doctors, a target the hospital had previously overlooked.
With so many digital corporate marketing priorities vying for attention these days, it would be easy for companies to put off Groundswell — both the book and the concept — for another day. My guess is that Michael Dell, and the leaders of the other featured companies, would disagree with that decision.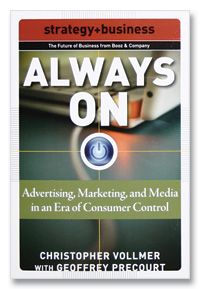 The Evolving Ecosystem
Whereas Groundswell focuses exclusively on social media, Always On: Advertising, Marketing, and Media in an Era of Consumer Control, by Booz & Company Partner Christopher Vollmer, who heads the firm's media and entertainment practice, written with founding Adweek editor Geoffrey Precourt, helps marketers, agencies, and media companies understand the larger context of the consumer-in-control era, from the splintering of media channels to the development of new metrics for measuring advertising effectiveness.