Future experimentation is inevitable; the fully realized for-benefit corporate design — with all the right elements, a design that's capable of replacing the dominant model of today — may not exist yet. We may be entering a new era of design diversity, in which different designs serve different functions. Today, at least three broad approaches to for-benefit architecture offer promising models: stakeholder-owned companies, which put ownership in the hands of nonfinancial stakeholders; mission-controlled companies, which separate ownership and profits from control and organizational direction; and public–private hybrids, where profit-driven and mission-driven design elements are combined to create unique structures.
Stakeholder-owned Companies
The cooperative model of ownership, which dates to the mid-19th century, was conceived as an alternative to the shareholder-based ownership model that developed at roughly the same time. The defining feature of the cooperative model is that these companies are owned and controlled by the members they serve. Members might be customers (as in a credit union), producers (as in a farmers cooperative), homeowners (as in a housing co-op), employees, or the community. (There is some overlap between cooperatives and employee-owned companies, but they are not the same; employees can own corporate shares either through cooperatives or in more conventional business structures through such measures as employee stock-ownership plans.)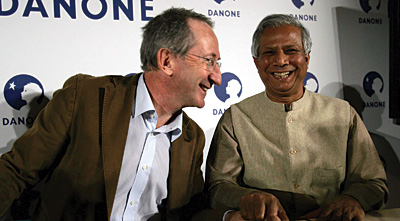 Cooperatives are a globe-spanning phenomenon, with membership now at 800 million people — more than double the total from three decades ago. In Colombia, SaludCoop provides health-care services to a quarter of the population. In Spain, the Mondragón Corporación Cooperativa is the nation's seventh-largest industrial concern. More Americans hold memberships in co-ops than hold stock in the stock market. When they are successful, these stakeholder-owned firms can be extraordinarily long-lived, with remarkable business and social impact: Rabobank Group in the Netherlands and the Springfield ReManufacturing Corporation in the Missouri Ozarks are two examples of companies that have prospered by drawing on the commitment and engagement of their shareholder–customers and shareholder–employees, respectively.
The success of firms owned and governed by stakeholders shows that, contrary to some economic assumptions, there's nothing innately better about independent shareholders or directors. But stakeholder ownership also has its flaws. Cooperatives have failed to match the growth of shareholder-owned companies because they lack access to capital (laws governing cooperatives often put restrictions on capital returns), and they can fail to retain leaders who perceive less chance of accumulating personal wealth. On the other hand, when employee ownership is matched with involvement, businesses can achieve results that would be considered near-impossible in conventional companies.
The Cooperative Regions of Organic Producers Pool (CROPP), better known by its brand name Organic Valley, is a producer-owned marketing cooperative in La Farge, Wis. CROPP is owned by the 1,200 organic family farms that produce the dairy, eggs, and meat it distributes. The company's mission is to save the family farm, which means paying as much as possible to farmers. "We don't have any need for profits much over 2 percent," says CEO George Siemon. "We'd just pay taxes on it. We'd rather give it to the farmers." Though growth has slowed in recent months, for years the company grew 30 to 40 percent per year. With 2007 revenues of $433 million, Organic Valley stewards one of the nation's four largest organic brands.
Similarly, the John Lewis Partnership PLC, with £6.8 billion (about US$10 billion) in revenues in 2007, has a stated purpose of serving the happiness of its employee–partners. It is the largest department store chain in the U.K., and also owns 200 Waitrose supermarkets. It is 100 percent owned by its 69,000 staff members, among whom all profits are shared each year. It is overseen by an unusual bicameral governance structure: The company has a traditional board of directors as well as a second employee-based governing body, the partnership council, directly elected by employees. The partnership council in turn elects five of the 12 board members. The council also influences policy and holds management to account, since it has the formal power to dismiss the chairman.