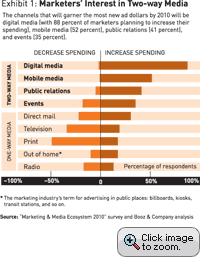 In fact, the majority of leading marketers are using two-way media such as blogs, word-of-mouth programs, and social networks to connect with consumers while employing predictive modeling tools to determine and continuously update their media mix. Moreover, marketers are shifting their spending to the channels, both digital and nondigital, that offer them the opportunity to engage in a dialogue with consumers. (See Exhibit 1.)
Nike has long been a pioneer in innovative strategies for interacting with its consumers. Take Nike+, a joint initiative with Apple Inc. and digital agency R/GA, which allows runners to monitor their workouts via a sensor in their Nike footwear that sends live data on heart rate and calories burned to their iPod. Runners can post their workout results online and participate in a community of both serious runners and novices at www.nikeplus.com. Recently Nike used the Web platform to engage 800,000 runners in the "largest race in the history of the planet," according to Joaquin Hidalgo, Nike brand CMO. The Nike+ Human Race on August 31, 2008, featured 10K races in 25 cities around the world.
As the physical event literally moved across the globe — from Singapore to Tokyo to Los Angeles to Bogota to Sao Paulo to Paris to Munich to Seoul — digital media enthusiasts tracked its progress live online. "It was a consumer experience we couldn't get anywhere else," noted Hidalgo during a recent speech. "Our revenue climbed as running became our fastest-growing category. And, more importantly, it showed us all how we could combine consumers' physical and digital experiences to create powerful new connections with our consumer."
• Place context on par with content. The distribution of marketing messages — their timing, context, and relevance — is becoming as important as their creative execution in today's ecosystem. You have only to witness the meteoric rise of search-based ads to understand that clever creative content takes a backseat to clever placement, at least in online advertising.
Consequently, marketers are steadily raising the profile of media strategy and planning within their organizations. They are establishing senior media positions and shifting their recruiting strategies in order to build capabilities in "communication planning" — the current term of art for the function charged with allocating a company's entire marketing spend across both paid media and below-the-line programs. Ap­proximately one-fifth of the marketers in our study have already invested in internal communication planning functions. And the majority of marketers expect their media agencies — those that plan and execute their media buys — to become ever more important partners.
Associated with this heightened focus on the media mix is the demand for greater flexibility and speed. In fact, most marketers are already buying and adjusting media on a weekly or even daily basis as needed. More than half of the marketers in our survey said they expect the media buying process to look more like the stock exchange in five years; media will be bought and sold on a real-time, transparent, and continuous basis. Good-bye, upfront. Hello, 24/7 marketplace.
Marketers that have not shifted greater focus to media planning will have to play catch-up. They need to incorporate media earlier in the marketing strategy process than they do now and keep it fully integrated as campaigns and initiatives unfold. Moreover, they need to institutionalize vehicles for media experimentation and innovation. Currently, fewer than one in four marketers has a centralized fund for media experimentation.
• Master the new calculus of communication. If there's a single point on which marketers, agencies, and media companies can agree, it's the need for clearer and more consistent measures of advertising effectiveness across traditional and digital media channels. Indeed, the lack of reliable and standard metrics is the principal impediment to the entire ecosystem's transition to a new marketing and media model. More standard metrics would give marketers and their partners permission to move beyond experimental spending and toward lasting innovation and change. Moreover, they would enable entirely new ROI and compensation models.