Transactional data can also be the most difficult data for marketers to obtain. For instance, when a de­signer apparel manufacturer tried to determine the ROI of its annual New York Fashion Week advertising blitz, it was able to capture transactional data from company-owned stores, but the department stores that sold the majority of the company's apparel refused to share their transaction data because they viewed the company as a direct competitor. In this case, the only available solution was to develop a model that estimated the advertising impact in the company stores and then extrapolated that impact to the larger universe of department stores.
Marketers simply are often unaware of the data that is available to them. For example, pharmaceutical company marketers invariably say that they cannot obtain the same level of detailed response data that consumer packaged goods marketers enjoy. But every filled prescription is recorded, and firms such as IMS Health Inc., which gathers information from 850 million prescription sales in 100 countries each month, have created huge repositories of this data. Pharmaceutical marketers are well aware of these databases in other contexts; in fact, many of them already buy aggregated data and analytics from IMS. So when marketers say they can't get the data for use in ROI analytics, it is often a reflexive answer. They simply have not thought about how to obtain response data at the granular level and how best to use it.
Demystifying Analytics
There is no "silver bullet" in marketing analytics — no single approach that is always the best choice to meet the various constraints that marketers face in the real and often chaotic world of business. Some types of analytics produce more accurate results; some are more mathematically sophisticated. But, when properly used, all of them can produce viable answers for marketers. Thus, if the first step for marketers developing analytical prowess is to learn how to identify and collect the data needed to establish ROI, the second step is to understand the analytical options and how to choose among them.
There are three broad categories of analytics. A good way to visualize them is to think of them as existing on a continuum. (See Exhibit 2.)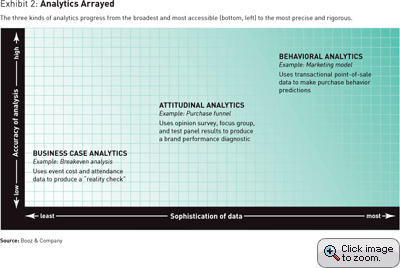 • Business case analytics. Business case analytics (those used to directly evaluate a proposed marketing investment decision) don't require customer data or produce an ROI. But they can be implemented with a minimal amount of data that is usually close at hand within the company. Typically, these analyses are relatively uncomplicated and require only simple, "back-of-the-envelope" calculations. For these reasons, they are particularly useful when initial reality checks are needed, analytics capabilities are not yet fully developed, or other types of data are unavailable.
Breakeven analysis, for example, does not generate an ROI. But it does produce an upper and lower set of boundaries that marketers can use to weigh their investment decisions. There are many ways to use breakeven analysis, depending on industry, company, and market vehicles. For instance, the aforementioned global wine and spirits distributor used it to evaluate promotional sampling events because the financial data was incomplete and customer response data was unavailable.
• Attitudinal analytics. Attitudinal analytics mea­sure customer opinions, perceptions, and self-reported behaviors. Their advantage is the ability to measure and forecast qualitative metrics, such as brand awareness and purchase intent. They allow marketers to understand brands more comprehensively than business case analytics, but they are less accurate and less ROI driven than their behavioral counterparts.
One very useful framework for attitudinal analytics is called the purchase funnel. (See Exhibit 3.) This well-known conceptual map traces prospective customers from their first exposure to a brand (brand and product awareness), through growing levels of interest and engagement, triggered by a succession of "actionable levers": different types of marketing and promotion. At each level of the purchase funnel, various measures can provide insight into how well a product is performing. Most companies measure performance through a combination of self-reported, behavioral, and financial data. Taken together and combined with sophisticated analytics, these measures can indicate the likelihood that, for any given product, customers will move down to the next level of the funnel, toward greater purchase probability and brand loyalty.