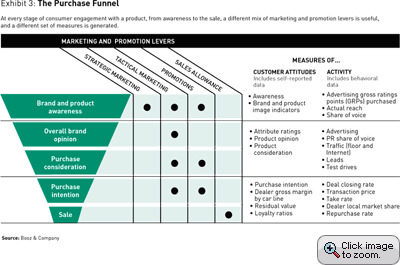 As diagnostic tools, attitudinal analytics augment the funnel by measuring the views held about the brand by its current and targeted customers at any point in time. With this information, marketers can look at their "scores" for the different levels of the funnel and iden­tify ways to improve response. For instance, if a specific brand of car enjoys a consumer awareness score of 99 percent, but only 17 percent of consumers have a positive opinion of it, its marketers know they should focus their attention and spending on the brand's reputation.
When combined with regression analysis (statistical methods used to describe the causal relationships among changing variables), attitudinal analytics also enable marketers to predict how marketing investments would affect consumers' attitudes about the brand. For in­stance, car marketers can predict what impact a higher opinion score for the vehicle would have on consumers' purchase consideration or actual purchases.
• Behavioral analytics. Behavioral marketing analytics are driven by computer models, powered by algorithms, and fueled by transactional data. These sophisticated analytics use actual customer responses to measure ROI and to predict how customers will respond to events such as a price change, a promotion, or a TV ad.
The most valuable such models predict the purchase behavior of customers. Developed over the last 25 years, they allow marketers to isolate the impact on sales volume and ROI of factors such as advertising, pricing, promotion, word of mouth, special events, and seasonality, as well as those variables that marketers have little or no control over, such as weather and the actions of competitors. These models apply multivariate regression analysis to manipulate data around a series of variables and produce a simple yet often highly accurate prediction.
Marketing models designed to help companies manage and optimize their spending in new media are also emerging. For instance, Yahoo Inc. has teamed up with ACNielsen (a division of the Nielsen Company) to form Yahoo Consumer Direct, a service that offers marketers a way to reach narrow customer segments online and to measure responses on the basis of actual purchases.
Today, several analytics companies are busy building and refining the holy grail of marketing analytics — the modeling of a company's entire marketing mix. These models can tell marketing executives how much of their budgets to invest in various vehicles such as print, TV, radio, and Internet. M-Factor Inc., a com­pany based in San Mateo, Calif., has built a model that can cover all marketing vehicles; they have turned it into a software-based service used by such major marketers as Kellogg, Wendy's, and Coca-Cola. The potential value of marketing mix models is enormous; according to a study by the Marketing Leadership Council of the Corporate Executive Board, based in Arlington, Va., companies expect that use of these models will boost returns on their marketing spending by 20 to 30 percent.
Choosing among Approaches
To develop the best portfolio of analytics for its specific situation, a company should consider three variables: data availability, internal capabilities, and brand objectives and vehicles.
Because analytics require data, the first consideration in choosing among them is the availability of that data. If transactional data is available, behavioral analytics should be the first choice. If transactional data is not available, but self-reported data is at hand, then attitudinal analytics are preferable. And if profitability and event cost data are the only data available, business case analytics may be the best option.
The second consideration in choosing analytics is the internal capacity of the marketer's organization. For instance, there is no sense in collecting transactional data and choosing modeling as an analytical approach if the organization doesn't have the statistical expertise needed to build a model or the budget to buy one. The company must focus on analytical approaches that it has the expertise to execute immediately.