Still, they can and should try many other things. Libraries may not have the budget to put their entire book collections online — but they should focus on building and enhancing those collections where they have unique strengths that can be leveraged. They should also explore new ways of serving users more conveniently, effectively, and efficiently. Perhaps they can create an online reservation system that patrons can use for a small fee if they want to have a book waiting for them at the front desk when they arrive. Libraries may not have the budget to add a collection of foreign films on DVD, but perhaps they can "find" the money in their budget by eliminating acquisitions of the kinds of books that experience shows have rarely left the shelves. Libraries may be under political pressure to keep all branches open, but they must at least tailor their staffing approaches at these branches to make more efficient use of their resources.
One library we worked with was able to stay open for two hours more per day simply by altering workers' shifts, rethinking services, and changing library layouts. Such analytically enabled improvements are necessary as libraries come under increasing budgetary pressure.
2. Understand and respond to user needs. Libraries have only the most general information about their users — how many of them there are, what they do when they are at the library, and what they borrow. We don't blame libraries for not wanting to put themselves in the position of having to provide information to government authorities about their users' reading habits and other activities. In the U.S., for example, library administrators are right to be concerned about some provisions of legislation enacted after the terrorist attacks of September 11, 2001.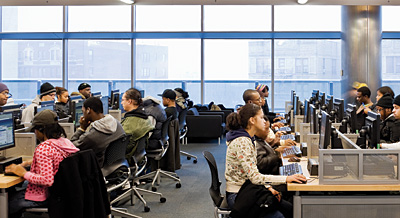 However, the solution most libraries have settled on — namely, to avoid gathering any detailed information about users' needs and activities — is far too timid. Libraries should develop advanced capabilities to build aggregated profiles of users, or what retailers call customer segmentation analysis. Who is visiting the library and how often are they coming? What are they doing once they get there? Which books do they borrow most often? Which books never leave the shelves? Which services get used most often; which least? Merchandisers and retailers have tools to help them answer these kinds of questions. Libraries, too, should adapt or create these and similar tools.
3. Embrace the concept of continuous innovation. This is not the time for libraries to shy away from new strategies. Library executives need to do more than innovate, however. They need to approach the innovation challenge with an entrepreneurial mind-set: test, mea­sure, refine. And if something does not work, they must go through the process again: Test, measure, and refine using new ideas and concepts.
The innovation doesn't have to be of any one type; it can happen across the whole library value chain. For instance, changes might be operational — like the Toronto Library's use of radio frequency identification (RFID) readers to bring a measure of self-service to the checkout function or the Seattle Public Library's creation of a conveyor-belt book sorter to reduce handling time. Changes might be atmospheric, such as the background music the Seattle Library now pipes into its domed young-adult sections. Finally, there might be changes in format, including the opening of smaller library "outlets" in what is essentially a variation on a theme already being practiced by retailers like Lowe's, Wal-Mart, and Tesco. Libraries should appropriate the many traffic-building enhancements that retailers are making to their stores.