2. Invention. Brands that score high in invention change how people feel and the way they behave. As the most functional element of energy, invention is built on the tactile and sensory associations that come from product and service experiences and other physical brand interactions. Invention can be built through innovation, brand iconography, packaging design, applied technology, retail environments, and customer service. A brand's invention can never be static. It requires a commitment to continuous innovation, service excellence, and new forms of brand experience.
The brands that possess demonstrably strong invention include W Hotels, which offers its guests Wi-Fi in the lobby, "fashion emergency kits" from Diane von Furstenberg, and products from Bliss Spa; Zappos, which excels at customer service, including free returns on shoes purchased over the Internet; Nike and Apple, which teamed up to create Nike+, where Nike shoes transfer workout data to an iPod Nano; and Kidfresh, which introduced nutritious fast food for children with playful presentation and packaging.
3. Dynamism. Brands with dynamism create excitement in the marketplace through the way they present themselves to consumers. Dynamism is the most emotional and immediately visible of the three components. It reflects the brand's ability to inspire consumer affinity. Traditionally the outcome of a big ad campaign, guerrilla marketing event, or highly visible marketplace event, dynamism engenders a persona, community, and evangelism among a brand's users. Dynamic brands penetrate popular culture. They give consumers something to talk about, facilitating enthusiastic word-of-mouth discussion across consumer social networks and brand ecosystems.
The brands with top scores in this category illustrate the many flavors of brand dynamism: Harley-Davidson, which holds a rally in Sturgis, S.D., each August that marks the largest concentration of motorcycles on the planet; Twitter, which took SMS messaging to a fluid form of social networking used by millions; Design Barcode in Tokyo, which patented its idea to turn ordinary barcodes on products into forms of visual communication; and Mini Cooper, which mailed owners RFID chips with customizable messages that flash up on Mini billboards when they pass by.
Putting the Metrics to Work
By plotting a brand's scores for measures of both brand strength and brand stature, we can paint an accurate, holistic picture of its status as a forward-looking measure of performance. We accomplish this by charting a two-by-two matrix that plots strength against stature. This can be done for a single brand at a time or for as many as thousands of global brands, creating a sort of "brand constellation," something that resembles a stargazer map showing where all brands are at any given moment in comparison to one another without regard to brand categories.
As Exhibit 2 shows, the BAV matrix uses performance to plot a brand into one of four quadrants, each of which is indicative of brands' status in a very specific way.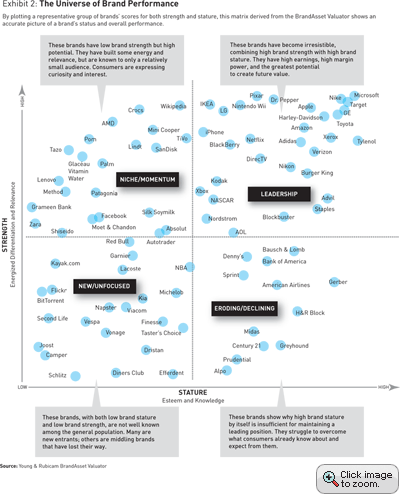 When a brand generates abundant energy, it becomes more irresistible, which creates greater preference and usage, in turn attracting new users. We analyzed more than 2,000 brands in the BAV database over a four-year period and found that brands with higher energy-to-equity ratios in a given year showed substantial growth in usage and preference over the following year. One revealing exercise is to plot high-energy brands against their category averages and array them in the grid of stature and strength. These brands, thanks to energized differentiation, zoom upward out of their industries into much higher realms of performance. This exercise shows that they have become irresistible brands that transcend their categories and redefine their own markets. (See Exhibit 3.)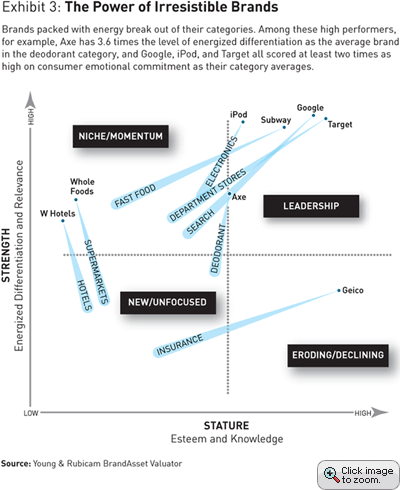 Energized brands like those shown in Exhibit 3 become market leaders that set new expectations for the way things should be. They don't aim for mere awareness. Instead, they upend ideologies, challenge convention, and market themselves to consumers' value systems. They tap into mind-sets that find business in a broader cross-section of the marketplace, attracting new users and growing their categories. And they go where the money is, creating greater margin power and future value creation. Companies with energized brands also deliver superior returns for shareholders over time. (See Exhibit 4.)