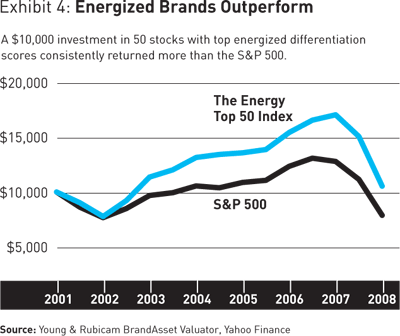 Building the Energy-driven Enterprise
We now know that the brands that are thriving even in today's difficult markets, and that will succeed in the future, have a more powerful form of differentiation than other brands — one with energy. These brands offer consumers a palpable sense of movement. Brands with energized differentiation drive future corporate financial performance more than the traditional brands that dominated the market for decades.
There's an old adage, "Something that's truly innovative can't be measured." But we're now able to demonstrate the economic value of creativity in brands and explain how brands can break out to affect the future financial performance of their firms. We can link brand momentum and creativity with predictive financial performance.
The results suggest that there is a comprehensive five-step framework for companies that wish to build an irresistible brand by infusing it with energy.
1. Perform an "energy audit" on your brand. Your goal is to capture a baseline that identifies the current sources and level of energy so you can understand your brand's strengths and weaknesses and detect how well your brand management is aligned with the dynamics of the new marketplace. As an entry point to the energy audit, we invite you to draw upon our proprietary BAV database.
2. Make your brand an organizing principle for the business. Do this by finding an essential brand thought that everyone can buy into. We call this process "building the energy core" — and it should be a lens through which every aspect of the customer experience, including products, services, and communications, is defined. A strong core allows a brand to segment customers by attitude and values, reorganizing its products and services with regard to customer insights and deeper emotional needs. A powerful core aligns the organization and allows it to more aggressively shape its future.
3. Create an energized value chain. The organization's goals for the brand must become real for everyone; all participants must understand how their own actions boost the energy level of the brand and fuel the core. This process needs to begin in the C-suite and extend to all functional areas — sales, manufacturing and operations, distribution, information technology, customer relationship management, and human resources.
4. Become an energy-driven enterprise. Management must next focus on formalizing this way of working throughout the organization. Stakeholders need to transfer their energy and passion to their business units and functions. Once management's aspirations for the brand and business become part of the culture, the process of building an energized brand enterprise is propelled forward.
5. Create a loop of constant reinvention. The final stage is to make sure that the organization and its brand are in a state of constant renewal. Brand managers must be ready to reshape themselves over and over again. Brands, like business, are in permanent flux. We must listen carefully to the market, and continuously modify, personalize, share, and improve upon our offerings. Especially in today's economic environment, the benefits consumers are looking for in brands are evolving. By being keenly aware of these shifts in consumers' perception and values, marketers can help their brands survive — and even grow into irresistible ones.

Reprint No. 09205
Author Profiles:
John Gerzema is chief insights officer at Young & Rubicam and previously ran Fallon's international network. He has guided brand strategies for many global businesses, including Coca-Cola, McDonald's, Microsoft, SABMiller, Nikon, and Sony.
Ed Lebar is chief executive officer of BrandAsset Consulting and oversees brand strategy and research for Young & Rubicam. He is a former professor of economics at the City College of New York and Finch College.
This article was adapted from The Brand Bubble: The Looming Crisis in Brand Value and How to Avoid It, by John Gerzema and Ed Lebar (Jossey-Bass, 2008).