Dov Frohman doesn't exactly look like a pillar of the high-tech business community as he arrives for an interview at a restaurant near his home in the verdant Ein Kerem neighborhood of Jerusalem. He's riding a temperamental Suzuki dirt bike and dressed in a scuffed leather jacket, faded jeans, and black wristbands. And Frohman doesn't sound very Fortune 500 as he talks about his newest book, Leadership the Hard Way: Why Leadership Can't Be Taught, and How You Can Learn It Anyway (with Robert Howard; Jossey-Bass, 2008), which extols the virtues of taking risks, nonconformity, and survivalism. But the 70-year-old founder and now-retired CEO of Intel Israel Ltd. — an amateur pilot whose idea of a fun vacation involves being dropped by helicopter into the Alaskan wilderness with a backpack and a map — prides himself on his maverick persona. It has defined his long and varied career as a technologist, inventor, academic, and organizational leader. And it is responsible, in a significant way, for the fact that Israel is a world leader in the field of advanced technology.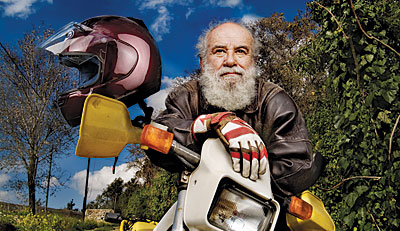 "Dov's risk taking brought Intel to Israel, and it made him able to achieve things that no one else could even dream of," says Maxine Fassberg, Intel Israel's general manager, who has known Frohman for decades.
Indeed, 25 miles down the road, in the southern town of Qiryat Gat, one of Intel's massive semiconductor fabrication plants (or fabs, as they're called) stands as a testament to Frohman's ability to successfully take risks. Under his watch, Intel Israel grew from a small design center to a key outpost of the corporation's global microprocessor production — one that has never missed a shipment, even in the face of war and continued geopolitical instability.
As the country's largest private employer and its pioneering semiconductor producer, Intel is also an anchor of Israel's booming high-tech sector. Today, Israel has the world's highest levels of venture capital investment as a share of GDP, R&D spending per capita, and scientists and engineers per capita. Its high-tech sector is second only to Silicon Valley in terms of innovation, and more than 70 of its companies are listed on Nasdaq.
Although Frohman's achievements have been recognized — in 1991, he was given the Israel Prize, the nation's highest honor — he is hardly a household name, even within Israel. This may have something to do with the fact that for Frohman, being an effective leader is ultimately a private endeavor.
In Leadership the Hard Way, Frohman argues that leadership ability is fundamentally an intrinsic quality — the courage to obey a quiet instinct in the center of a storm and to act decisively on that instinct. He believes, therefore, that it is something that can never truly be taught, although it can be learned over time by acquiring personal wisdom and emulating a mentor.
For Frohman, that mentor was Intel CEO Andy Grove, whose catchphrase "only the paranoid survive" infused Intel's culture. It is perhaps not surprising, then, that Frohman's primary focus is survival at all costs. "The fundamental responsibility of the leader is to ensure the long-term survival of the organization," Frohman wrote in Leadership the Hard Way. "I tried to create a culture at Intel Israel in which the imperative of survival became a powerful catalyst for improvisation and innovation."
His strategy for achieving that survival, however, may seem counterintuitive: Welcome the unexpected while simultaneously holding fast to a long-term vision, fight against the mainstream, make room for dissent and daydreaming, think "differently," and embrace risk precisely when you can't afford to fail.