This year's harvest of leadership books reflects the performance of the current crop of leaders in the public and private sectors: mostly mediocre. We had trouble finding even six out of the dozen of new titles that we could recommend without qualification — and the best that can be said for most of them is that they faithfully repeat unobjectionable advice found in volumes already on our shelves. However, we note one positive thematic trend running through the books we've examined: The marketplace of ideas is continuing to define leadership not by vision or charisma, but by execution. And increasingly, execution is seen not as a bloodless operational skill, but as a collection of human traits. Most encouraging, authors seem to be focusing more on the legitimate needs of followers and less on the ego requirements of leaders.
Fortunately, there are a few good leaders, and a few good new leadership books.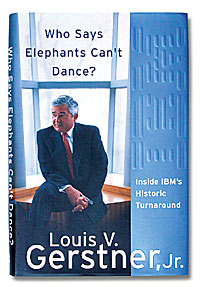 Louis V. Gerstner Jr. gets the nod on both counts. His Who Says Elephants Can't Dance? Inside IBM's Historic Turnaround (HarperBusiness, 2002) is, to our minds, one of the best books written by a practitioner of the leadership art. Writing in plain English, and apparently without the help of a professional writer, Gerstner logically and analytically relates what he learned about leadership during his successful career as a top executive at American Express, RJR Nabisco, and IBM. He translates those lessons into a set of guiding principles, and shows how he applied them in the complex process of turning around IBM. Combining his principles with those offered in Larry Bossidy and Ram Charan's Execution: The Discipline of Getting Things Done (which we reviewed last year in "Leadership Theory and Practice: So Happy Together," s+b, Fourth Quarter 2002) would constitute a useful playbook on how to transform almost any business.
Gerstner is not on an executive ego trip designed to convince readers how great a leader he was. Instead, he wants to educate us. Devoting minimal space to his own life, Gerstner quickly gets down to work telling us how he planned the unexpected (and, for a time, controversial) initial steps in the IBM makeover. Dismissing the "vision thing," Gerstner explains how he decided on the following strategic priorities: keeping IBM together, changing its fundamental economic model (expenses needed to be reduced faster than its gross profits were declining), selling underperforming assets to raise cash, and reengineering.
Reengineering's Pain and Payoff
Although IBM saved billions by reengineering, Gerstner frankly admits the process was painful, quoting a colleague's statement that "reengineering is like starting a fire on your head and putting it out with a hammer." He describes key elements of the reengineering process in practical detail: eliminating bureaucracy as quickly as possible; decentralizing decision making while allowing for central strategic direction setting; creating a common focus on the customer; and right-sizing quickly after cutting costs. In carrying out these changes, Gerstner says he was guided by the following leadership precepts:
Manage by principle, not process.
The marketplace is the driving force behind everything IBM does.
Look for people who work to solve problems, help colleagues, and don't hide behind staff; sack the "politicians."
Stay heavily involved in the company's strategic direction; let others implement.
Reduce hierarchy and committees; create new leadership teams.
Lead change from the top.
Think and act with a sense of urgency.
Accountability must replace looking good.
Set priorities, with sooner being better than perfect.
These would be truisms and platitudes if it weren't for Gerstner's willingness to spell out what they mean in practice. For example, he says a corporation is nothing more than the collective capacity of its people to create value, a capacity that is a byproduct of company culture — how people work, how they interact, and what motivates them. Although it is easy to identify key indicators of culture — does it focus on risk taking or consensus? is it driven by teamwork or the cult of an individual star? — Gerstner says a leader can neither mandate changes in culture from the top, nor reengineer them through change management processes. Instead, the leader must create conditions that enable people to adapt to changes in the operating environment. Keys to doing that include creating strategies with analytical underpinnings ("competitive and market intelligence wins wars") and insisting on disciplined reporting and accountability ("people respect what you inspect").