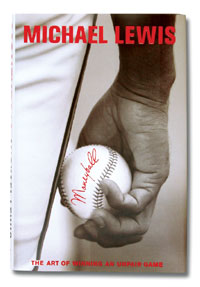 You can tell at once that Moneyball: The Art of Winning an Unfair Game, by Michael Lewis (W.W. Norton & Company, 2003), is not going to be one of those standard business books. It has no index. There are no references here to other authors, no case studies from model organizations, no fine theories or worthy checklists. Michael Lewis writes stories, true stories about real people, and he lets the stories speak for themselves. If there are messages in them for managers or businesspeople, they will have to work them out without his assistance.
For each of his books, Lewis has charmed his way into the culture of a very different world, and into the confidence of some riveting characters who inhabit that world. This, you feel as you read, is how it is; this is how these people think and work, these are the ambitions and passions that drive them, these are the conflicts that dog their lives. As observers of business, we can learn a lot by living with the characters revealed in the pages of Michael Lewis's books, and by watching how they deal with the big and little problems of management.
In Liar's Poker: Rising Through the Wreckage on Wall Street (W.W. Norton & Company, 1989), Lewis took the lid off the world of investment banking. In The New New Thing: A Silicon Valley Story (W.W. Norton & Company, 1999), he explored Silicon Valley and one of its more exotic residents — Jim Clark, who founded Silicon Graphics, Netscape, and Healtheon. In Moneyball, his latest book, he has visited the world of baseball and, in particular, the Oakland Athletics and Billy Beane, their general manager.
Spotting Talent
Baseball may be a sport, but it is also a business, a big business. Billy Beane had a problem that many a manager could empathize with — high ambitions for his team but only a tiny budget. Yet somehow, for the last several years, with the lowest or next-to-lowest payroll in the major leagues, the Oakland A's won more regular-season games than any other team except the Atlanta Braves, went to the playoffs three years in a row, and in the previous two years took the richest team in baseball — the New York Yankees — to within a few outs of elimination. Moneyball is the story of how Billy Beane did it.
Baseball addicts will love the tale, will probably know the names of many involved, and will recall some of the key events. Others will be baffled at times by the jargon and the technicalities of the game, as was this British reviewer who was reared on the equally mysterious sports of cricket and rugby football but has never watched, let alone played, a game of baseball. But, as in most of life, while the technical bits may be critical, they are not the point. The point is Billy Beane's realization that baseball teams are made, not bought.
That may not seem very revolutionary, but baseball is one of those businesses where the people truly are the assets and are priced as such. Every player has a market value that, in a relatively small and exclusive market, is known to all. In such a transparent market, it is reasonable for people to assume that the most expensive players are the best players, a situation that clearly favors the deepest pockets. Billy Beane dared to suggest that the market did not know best — and that was revolutionary.
Michael Lewis joined Billy Beane and his team of scouts in 2002 when they met to discuss the draft, which is the industrywide process of recruiting the new talent from high schools and colleges. Also present was a young Harvard graduate, Paul DePodesta, with his laptop computer. Paul distrusted irrationality in human affairs and believed that huge opportunities were open to those who resisted irrationality. He had never played baseball, but he believed that picking talent might be more interesting than picking stocks on Wall Street.