When the well-known British chef and television reality show host Jamie Oliver arrived in Huntington, W.Va., in early 2009, he had a daunting goal in mind: to alter eating habits. Just a year before, Huntington had been dubbed the unhealthiest city in the United States by the U.S. Centers for Disease Control and Prevention. The community of 50,000 led the nation in rates of heart disease and diabetes. Half of its adults were considered obese. Oliver had chosen this small city for an initiative (and subsequent TV program) branded Jamie Oliver's Food Revolution, with the idea of having a broader impact. If people could make themselves healthier here, they could do it anywhere.
In any community, food is closely tied to culture. And for any leader interested in change, watching Jamie Oliver's Food Revolution can provide an inviting and immediate sense of how cultural patterns can be altered in the real world. Of course, Oliver is not an expert in organizations or management, but before bringing his show to Huntington he had already completed a series of campaigns to improve eating habits in the U.K.; he had been named a member of the Order of the British Empire for this in 2003. The expert chef, now 36, first gained fame in 1999 as a young cook known as "The Naked Chef." He is known for his optimistic, boyish television persona; his ardent declarations that food should be healthy (fresh; prepared close to its raw state; and uncompromised by processed ingredients, sugary flavoring, trans fats, or other additives); and the cheerfully confrontational style of his programs.
The strategy+business Collection: Don't Blame Your Culture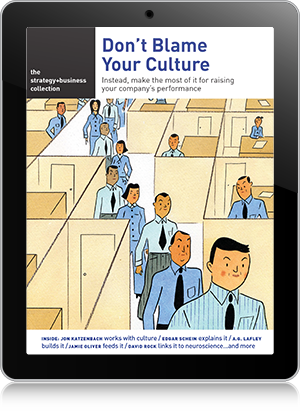 This article is featured in the strategy+business app "Don't Blame Your Culture," available for smartphone and tablet devices. The app pulls together s+b's best writing on organizational culture and change, featuring Jon Katzenbach, TV chef Jamie Oliver, former P&G CEO A.G. Lafley, and more, explaining why companies resist wholesale change, and how to make the most of the culture you have.
To download, select your device:
As portrayed on Food Revolution, Oliver's success depended not just on a plan or on expertise, but on his willingness to experiment, learn, and intuitively shift gears on the fly. He began his West Virginia campaign the way many leaders of change begin: with exhortations and slogans about the new behaviors needed to eat and live in a healthy manner. "I've been in South Africa, in the townships," he told a group of school cafeteria cooks at one point, "and they're getting better food than your American kids." But he soon discovered that he could not force or persuade people to change their minds. Instead, he made it easier for them to change their habits first, while keeping their own views and values. He did this by starting on a very small scale, with a tiny vegetable: the pea.
Learn the Local Culture
Oliver came to Huntington with confidence that the rightness of his goals, along with his charisma and the town's opportunity for TV exposure, would be enough to carry the day. Almost immediately, however, he ran into opposition. One of his first efforts to seek support, at the popular radio show of local disc jockey Rod Willis, turned out to be a disaster. Willis leveled Oliver's plan with one withering line: "We don't want to eat lettuce all day." As shown on the reality show, the disc jockey reduced Oliver to tears, questioning his ability to effect change and his motives — intimating that the former Naked Chef was presumptuous and glory-seeking.