Of course, CEOs at companies with other core models also face great pressures. As we noted earlier, planned-succession tenures, overall, have dropped from 10 years to seven since 2000. In a large company, seven years can be a very short time to set an agenda and execute it. Nonetheless, as an incoming CEO, you should adjust your expectations accordingly, and be prepared to demonstrate early wins in the first few years to solidify your position.
If you are a board member or senior executive in search of a long-term CEO, you face a different, but equally immense, challenge. As they develop through their careers, very few candidates will automatically receive the breadth of general management experience and functional expertise needed to oversee a large global enterprise. In a Model 1 company, up-and-coming executives have the early opportunity to run a P&L, but they may not get a broader sense of the whole portfolio or develop strong functional skills. By contrast, in a typical Model 4 company, there will be a cadre of executives with high levels of functional expertise and strong industry knowledge, but their general management experience may be less robust.
It is the responsibility of sitting CEOs and boards to plan for succession by building a bench of well-rounded candidates that transcends any management development limits in their corporate core model. Model 1 and 2 companies need to help their general managers cultivate functional and portfolio management skills. Model 3 and 4 companies need to give their functional specialists general management experience. Thoughtful executives planning their own careers would do well to take on roles that help fill the gaps.
If you are a new CEO, awareness of your corporate core model can help you establish a better position. For example, a new CEO coming from the outside into a company with an active management model can lay the groundwork for success early by appointing well-regarded insiders to one or two top jobs, to engage the organization more effectively. Similarly, in last year's study, we highlighted the growing importance of regarding the board of directors as a strategic partner. This advice is crucial if you are the CEO of an operationally involved company, especially given the fact that skirmishes with the board account for most CEO dismissals in those companies. The more effective your engagement is with the board, the more likely your succession is to be a planned one.
In general, chief executives need to adapt their personal management style to the company's corporate core model. This may be particularly challenging if you are a new CEO in a Model 1 or Model 2 company. More likely than not, you were an operationally involved business unit head before taking the top job. Now, you will have to deliberately learn to delegate accountability for running the businesses so you can focus on adding value to the larger organization.
No matter where you sit on the corporate core spectrum, the challenges of being the CEO of a major corporation are considerable and growing, while the window you have to address and overcome those challenges continues to narrow. Never has the job been more exciting…or more daunting.

A Tipping Point for the Global Economy
by Ivan de Souza and Edward Tse

The changing composition of this year's sample of the world's top 2,500 public companies by market capitalization is, in and of itself, a significant portent of a profound shift about to occur in the global economy. The center of gravity among global corporations is moving from mature Western economies to emerging markets. (See Exhibit 3.) The details vary by country and industry, but some general truths broadly apply.
Companies in emerging economies — not only in Brazil, Russia, India, and China (the BRIC countries), but also in the "next 11" countries named by Goldman Sachs: Bangladesh, Egypt, Indonesia, Iran, Mexico, Nigeria, Pakistan, the Philippines, South Korea, Turkey, and Vietnam — are in hyper-growth mode. They are on the early and steep side of what we at Booz & Company call the arc of growth: the natural evolutionary cycle of any country or region as it enters the industrialized economy. Meanwhile, the mature economies of North America and western Europe are confronting challenges in generating further growth — challenges that have only been exacerbated by the economic turmoil of the past few years. The global recession has exaggerated the dichotomy between rapidly growing BRIC and next 11 countries on the one hand, and those in the Organisation for Economic Co-operation and Development on the other.
Furthermore, companies based in these emerging economies have far greater access to capital markets than they did even five years ago. Investors now perceive these economies more favorably, and the senior management of these companies have become more worldly in their outlook. Companies can now capitalize through IPOs, finance additional activity, and fund acquisitions in their own geographies as well as abroad (including in North America and western Europe).
Finally, companies in the world's emerging economies enjoy significant resource advantages. It's little wonder that demographically advantaged countries, such as India and China, and countries endowed with natural resources, such as Russia and Brazil, have seized the lion's share of the growth in global GDP over the past several years.
Although these general truths apply to all emerging economies, China's story has some unique elements. First, despite being publicly listed, the largest Chinese companies in our sample are still controlled by the state, which retains a substantial ownership stake. (Of the 232 Chinese companies on our global list of 2,500, the state owns all of the top 10.) The Communist Party appoints the chairman and the CEO of these enterprises from a roster it maintains of industry experts. (That said, the Chinese government has installed Western-style boards of directors in the top government-owned enterprises in China, and these boards exercise a good deal of authority.) Finally, given the high degree of government oversight, companies in China often enjoy distinct positional advantages, at least domestically, and M&A activity is rare. These factors all help explain why China's CEO turnover is so low compared with that of other countries. (See Exhibit 4.)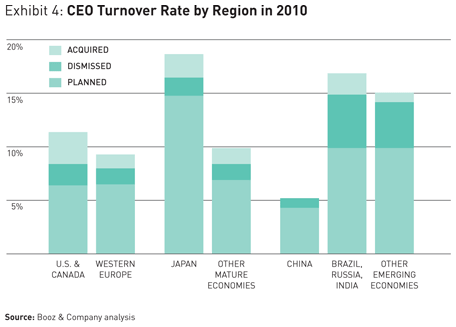 In the coming years, we should see Chinese companies and their emerging-market peers open up more and more to the rest of the world, in terms of both mind-set and footprint. Chinese business leaders, by necessity, will maintain a more international outlook; this will undoubtedly have an impact on CEO succession in years to come.
Ivan de Souza is a senior partner with Booz & Company based in Sao Paolo and is managing director of the firm's global markets business.
Edward Tse is a senior partner with Booz & Company based in Shanghai and Hong Kong, and is the firm's chairman for Greater China.