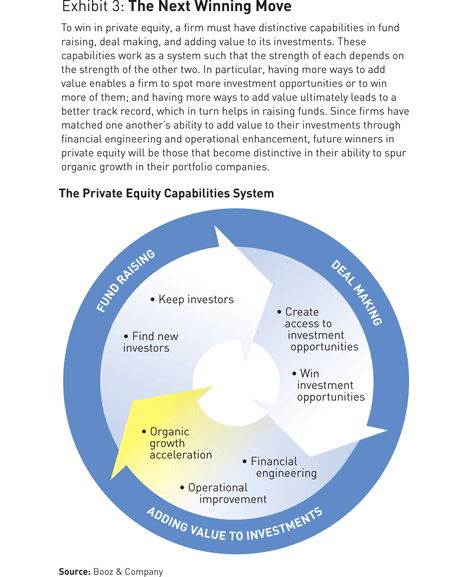 Some experienced PE players have already reached similar conclusions about the need for organic growth. The kind of cost cutting that firms initiated in the aftermath of the 2008 crash, says Henry Silverman, chief operating officer of Apollo Management, "is great, but it's not really an outcome-driver. It's not even the icing on top of the cake; it's the candles on top of the icing on top of the cake. The cake really is that you have to generate revenue growth — top-line growth — somehow."
The math of organic growth may not be as instantly gratifying as the math of financial engineering, which boils down to, in Silverman's words: "If I have 10 cents, borrow 90 cents, buy your tie for a dollar, and sell it to Joe for $1.05, I didn't make a nickel; I made a 50 percent return on my investment." It may not be as straightforward as removing head count and expenses to drive up EBITDA, with the automatic value increase that produces. The playbook for organic growth includes many more pages and is much more complicated. Still, the best private equity firms already recognize the importance of driving organic growth in their portfolio companies and are looking for ways to do it more systematically. This is a story about how they will get there.
Private equity's new impetus for organic growth will ripple through not only the corporate sector but national and regional economies. Private equity has long been a pace setter in value creation, leading the corporate restructuring charge in the 1980s and the drive for operational efficiency in the 1990s. As the PE firms learn to enhance the organic growth of their portfolio businesses, managers at public companies — both those that may see an LBO in their future and those that will be competing with PE-owned companies — may need to rethink their own ability to spur the organic growth of their businesses. And from an economy-wide point of view, any rebalancing of capital-market incentives toward organic growth will change the economic landscape — and could help counter the concerns about "putting profits over growth and jobs" voiced by many observers of the business world in recent years.
The Third Innovation
The role that organic growth can play for private equity is perhaps best understood by looking back at how the buyout industry has evolved. Since private equity's emergence as a high-profile asset class in the 1980s, the industry has profited from two major innovations. The first was financial engineering — specifically, using debt to buy companies and take them private, with the expectation of being able to resell them later at a leverage-enhanced rate of return. Some of the earliest private equity successes — including the 1982 acquisition of Gibson Greetings, a greeting card company, by onetime U.S. Treasury secretary William Simon — were examples of this. (Simon and his co-investors purchased Gibson Greetings from RCA in 1982 for $58 million in cash and the assumption of $22.6 million in liabilities, and sold it in a May 1983 IPO for $330 million.) Then there was KKR's $30 billion+ acquisition of RJR Nabisco in 1989, the deal that really put PE on the map. "The people who understood the workout process made terrific profits," says Paul Levy, who worked at Drexel Burnham Lambert in the 1980s, when it funded many hostile takeovers, and is now managing director of JLL Partners, a mid-market private equity firm.
By the 1990s, however, private equity firms were so well versed in the practice of financial engineering that the benefit was going primarily to sellers as increased competition among buyers — the private equity firms themselves — drove up bid prices. It was in that decade when private equity firms seized on a second big innovation: increasing the value of their portfolio companies through operational changes. The changes took many forms — process improvements, outsourcing, restructurings — but the goal typically could be summed up in three words: Take out cost. The results were impressive, and increasingly, public companies have begun their own improvement efforts by asking, "What changes would a PE firm drive?" This question puts them in the right frame of mind for taking aggressive action.