The advantages and satisfactions of recognizing the egalitarian nature of the working group are now understood; most traditional companies attempt to exploit this. Very little analysis in a similar vein has been done with boards of directors. Yet in corporations, the camp-like consensual group, the prince's council, is the board.
How Boards Behave
Since boards are like camps, a successful C.E.O. must remember how camps behave.
A board is not a working party. It cannot solve problems, it can only approve or disapprove courses of action proposed by its leader. If it is forced to choose between alternatives, a crisis of leadership often arises.
The C.E.O.'s leadership role is not openly acknowledged by outside board members, who strongly assert their equality. The C.E.O. thus must reach consensus among board members before proposing important issues. This process is called "keeping in touch."
The C.E.O. is the natural leader of the board. Even when a board has a chairman who is not the C.E.O., a person close to the company will refer to "Joe's [the C.E.O.'s] board." If the chief executive refuses to lead, then the C.E.O. and board will flounder or another individual member will assume leadership. In either case, the C.E.O. must be replaced. This is because the surrogate leader cannot lead well unless he or she assumes the C.E.O.'s role inside the organization as well as on the board.
Board members expect the C.E.O. to be their leader and will treat him or her as such until they decide to fire the person. Anything the C.E.O. says or does will be dealt with by experienced board members in the context of C.E.O.-as-leader. If an act or utterance of the C.E.O. is unreasonable in this leadership context, the other members will believe at a deep level that he or she is incompetent or insane. Since in either of these cases the C.E.O. must be replaced, an extremely unpleasant and difficult task, a member will sometimes opt for denial by assuming that a chief executive who exhibits such behavior is manipulative or evil, either of which is a disquieting but acceptable alternative.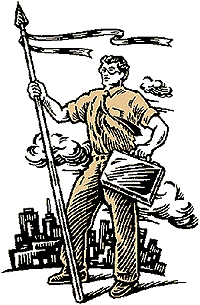 The Ways C.E.O.'s Fail
We can now examine C.E.O. failure modes by comparing modern companies with polities in primitive cultures, and by recognizing that much of our behavior is genetically determined and will be similar when working within groups of the same size. Our understandingof the short-term development of companies can thus be aided by knowing the long-term evolution of human society.
These comparisons confirm anecdotal evidence that successful management techniques are fundamentally different for companies above and below a critical size, and that techniques which succeed in a company above the critical size will fail below it, and vice versa.
The comparisons also explain why C.E.O.'s who are successful as division or subsidiary managers in large companies are unable to run independent companies. These failures are related to their inability to deal with their camp-like boards of directors.
Consider the following scenarios:
Problems With the Board: The New C.E.O.'s Surprise
Those few extraordinary individuals who succeed by climbing to the top of a hierarchy are surprised and sometimes quickly fail when faced with the need to immediately lead the board. The new C.E.O. is in the same position as a camp leader, but without the useful experience of having lived in a camp.
The result is that the C.E.O. often arrives at his position as head of the board without realizing that his role has fundamentally changed. He assumes that he simply has an organization like his old division or function to command.
If his whole experience has been in hierarchies, he may define himself as one who gives and receives orders; he has always been told what to do, or has told others what to do. If he has had no experience with boards of directors, he may make the fatal error of regarding his board as his new boss, as a working group to solve his company's problems or as a part of his organization that he must supervise. If he is told that he must lead the board but not command it, and that he must work by consensus, he finds this incomprehensible. He may deny that it is true, and may either actively avoid assuming leadership of the board or try to manipulate it or dictate to it. He is further confused by his fellow board members, who insist either that the board has no leader or that the leader is the aging chairman.