Mergers and acquisitions are fast becoming essential elements of corporate strategy. The worldwide value of mergers and acquisitions announced in 1998 pushed the $2.5 trillion mark - more than 50 percent higher than the previous year - and activity for 1999 is also brisk. Yet recent research shows that only about half of these merged companies have succeeded relative to peers, and despite a growing body of experience, the success rate is not improving. Still, a handful of companies have demonstrated that high levels of success can indeed be achieved on a repeated basis - success that shows in superior overall performance.
The Booz-Allen & Hamilton "Best Deals" study identifies the key strategies and best practices used by leading companies during strategy formulation, pre-merger planning and post-merger implementation that helped them achieve higher levels of success in their mergers and acquisitions. The process is not an easy one, though. Our findings show that mergers represent a challenging and risky strategic decision. The decision to merge should be fully challenged before companies decide to go ahead, particularly given the average performance of the returns and the risk associated with the potential outcomes. Even with thoughtful planning and preparation, best practices and focus, success is not guaranteed. However, applying the best practices should enhance the chances of success and help avoid catastrophic pitfalls.
Risky Proposition: Creating Value Through Mergers
Our research tested, as did many studies before it, some key variables believed in conventional wisdom to have an impact on the success of mergers. In our "Best Deals" study, we combed through the 117 most significant deals closed between January 1, 1994 and July 30, 1996 for which we could establish clear, value-based metrics. We looked at numerous factors such as industry groups, premium paid, vertical/horizontal mergers, size ratios (market capitalization and ales) and time to complete deals.
What did we find? Our analysis identified no statistically significant factor that could predict success or failure as defined by shareholder value creation relative to industry peers. The study found a high level of variability associated with potential returns. More startling, perhaps, our study produced the counterintuitive finding that purchase premium is not a predictor of success.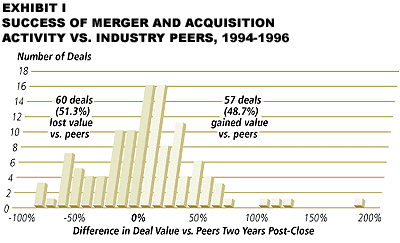 Still, trends did emerge. First, the study showed a wide range of performance by companies engaged in significant transactions, highlighting the risk. We found that one-sixth of the companies increased shareholder value by more than 44 percent over industry peers, while another sixth lost more than 44 percent versus industry peers. (See Exhibit I.) Additionally, half of all mergers failed to deliver excess returns: 51.3 percent underperformed relative to industry peers.
Given the average chance of success and the wide variance in potential outcomes, it is vital that boards, management and shareholders fully appreciate the risks and rewards prior to any merger. Before starting down this risky path, it is important to consider whether it is the best strategic option and the optimal use of capital, given the traditional investment performance and the significant complexity associated with a merger.
Handicapping the Odds of Success
Are there key variables that serve as indicators or predictors of a deal's success? Our research enabled us to examine dozens of possible correlations. In particular, we looked at three variables: the purchase premium paid by the acquirer; the relative size of the acquirer and the acquiree, and the overlap (or lack thereof) in the businesses in which the acquirer and acquiree compete.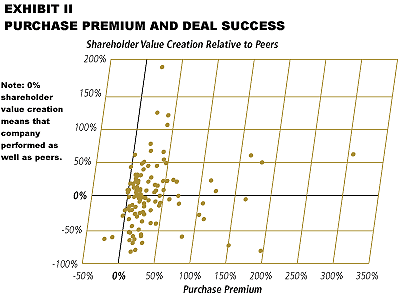 1. Correlation of Purchase Premiums. Our study showed that the purchase premium paid is not correlated to the deal's success. (See Exhibit II.) In other words, companies hat paid very high premiums did no worse than companies that paid small premiums, or in some cases, no premiums at all. The reason is that companies that were successful in mergers and acquisitions were able to create value an order of magnitude greater than the purchase premium they paid.