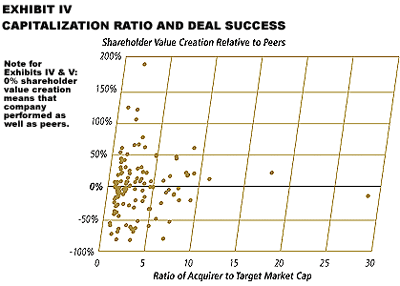 3. Industry Similarity. Finally, we examined whether excess returns were derived from the type of merger created using several different methods. We found no excess returns for vertical (different industry) or horizontal (similar industry) mergers. For example, industry similarity between the two partners in the deal, as measured by similarity in primary SIC code, showed no significant correlation and very wide variances. (See Exhibit V.) Some, such as USA Waste Services' acquisition of Western Waste Industries, were horizontal mergers driven by consolidation; that deal delivered 66 percent in excess return. Conversely, other companies used acquisitions in different but related industries to advance their strategies. An example is the Tosco Corporation's acquisition of the Circle K Corporation, which allowed Tosco to outperform peers by 65 percent. Circle K, now the marketing division of Tosco, is the largest operator of company-owned convenience stores in the United States.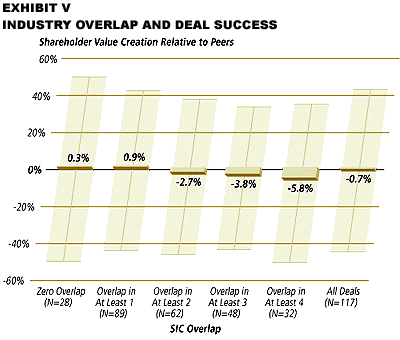 How to Increase the Odds of Success
So if these simple measures give us no clues about why some companies do better than others, how can we draw conclusions? In order to understand why certain companies are able to achieve higher returns, we looked behind the scenes to study the details of what they did - beyond the simple measurements and into the complex texture of their merger and acquisition process.
In addition to the "Best Deals" study, we tapped into the findings of our 1997 study entitled, "Making Acquisition Work: Capturing the Value of the Deal." This examined a sample of 35 companies worldwide that are active in mergers and acquisitions and examined the use of 100 tactics to discern the differences between those that were successful and those that were not.
How can a company increase the odds? Our combined research shows that the most successful companies link effective strategic formulation, pre-merger planning and post-merger integration. (See Exhibit VI.) Having all three components is critical for success:
A vision, strategically formulated, for where the company is going and how the deal fits. Companies then identify the appropriate targets and get the deal done.
A pre-merger process that targets companies with the right capabilities, gets the deal done and begins the integration through rigorous planning and building of trust among the players.
A post-merger process that seeks to capture well-defined sources of value and is led in a way that captures as much value as possible as quickly as possible.

Addressing the Challenge of Strategic Leadership
There are many reasons why a company may choose to merge. Much of the deal activity of recent years has been driven by strategic reasons such as consolidation; convergence across technologies and/or industries; technology control and management (easier to buy than build, defensive maneuver); geographic expansion, or new distribution and/or cross-selling opportunities. In many instances, mergers have helped define fundamental changes in a given industry (the British Petroleum Company/the Amoco Corporation) or across industries (AT&T/Tele-Communications Inc.).
Once an industry deal is initiated, many other companies often are driven into the merger game to compete on the same scale. Many companies are driven by urgency to buy rather than to be bought; to buy because it seems faster than to build, or to buy because the pace of business is simply too fast to be slow adding capabilities. The problem then is that all too often companies view the merger itself as the strategic end game. This is particularly true in consolidating industries such as banking, where every company seems to be competing just to get big. But successful companies understand that the deal is a means to an end and not an end in itself. In fact, in many cases, the deal will be the first of several that piece together the needed capabilities to achieve the vision.