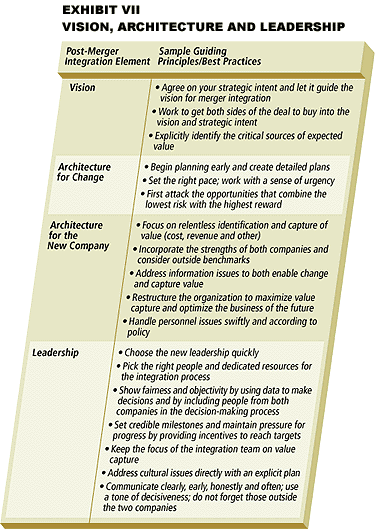 In our work with clients we have also noticed that the most successful companies retain sufficient "open architecture" thinking to identify "unanticipated" value during the post- merger process. They also exhibit an aggressiveness that allows them to capture value more quickly. We have worked with several companies thave been able to capture at least double the expected immediate value because they were open and aggressive in the way they searched for value opportunities.
Bringing it all Together
Finally, there is the need to bring each of these steps together into a coherent process. In our "Best Deals" study, we found that some of the most successful companies pinned part of their success on creating teams of people to work from the beginning on each stage: vision setting; pre-merger targeting; negotiation and planning, and final integration. In this way they were able to keep vision at the forefront, know where the value would come from and therefore negotiate the right price, and then use that understanding to guide the post-merger integration process.
The leadership of that process and the ongoing company is also critical. In most of the successful companies, leaders from both companies were involved in the process, and in many the target company's leadership stayed on to run the new combined business.
Evaluating potential mergers remains one of the most strategic and essential roles of boards and senior management. The implications of action, or inaction, can measurably enhance or erode significant shareholder value. Therefore, it is essential to "do it right." In many instances, this can mean walking away from a deal. In others, it means fully testing the assumptions of the merger and critically evaluating the organization's ability to effectively complete the integration and to create a new, more profitable entity. Given the risky and challenging nature of mergers, the burden of proof should be on demonstrating how a potential merger is the best strategic option facing the company. There must be a good answer to the question, "Why do we have to merge to achieve our vision?"
Simply put, the entire merger process can fully challenge and captivate management. The merger process encapsulates the most challenging aspects of running a company, and it increases the implications for key decisions while compressing them into a shorter time. It is important to realize the potential mergers can provide a company and the capabilities it needs to achieve its vision. It can be a powerful catalyst to help a company implement an industry-altering strategy. Likewise, a poorly conceived or implemented merger can destroy value and/or disadvantage a company relative to its competitors. It is our view that enough experience exists to significantly increase the success rate of deals. Some companies have already established this process as a core capability. In summary, by combining three steps into a coherent process - having a clear vision, engaging fully in the pre-merger process and enacting a complete post-merger process - you increase the odds of success.

Reprint No. 99404
Authors
---
Albert J. Viscio, Albert J. Viscio is vice president of Booz-Allen. He is co-founder of the company's Organization and Strategic Leadership Practice, which is concerned with top management, organization, business model transformation and leadership issues. Mr. Viscio holds a B.A. in economics from Holy Cross College and a Ph.D. in economics from New York University. Mr. Pasternack and Dr. Viscio are authors of "The Centerless Corporation" (Simon & Schuster, 1998).
---
John R. Harbison, John R. Harbison, vice president for Booz-Allen & Hamilton based in Los Angeles, specializes in strategic alliances, acquisitions and post-merger integration.
---
Amy Asin, [email protected]
Amy Asin is a principal with Booz-Allen & Hamilton based in San Francisco. She plays a leadership role in identifying trends and best practices in post-merger integration.
---
Richard P. Vitaro, Richard P. Vitaro is a senior associate in the Cleveland office of Booz-Allen. He has worked across more than 10 industries, assisting clients in strategic and operational issues. Mr. Vitaro received a B.S. from the United States Naval Academy and an M.B.A. with honors from the University of Chicago.