In The Leadership Challenge: How to Keep Getting Extraordinary Things Done in Organizations (1987), James M. Kouzes and Barry Z. Posner also conclude that trustworthiness is the key to leadership. Using a database of more than 60,000 leaders, they conclude that the most important individual trait of leaders is honesty. They identify five fundamentals of leadership: challenging the status quo, inspiring a shared vision, enabling others to act, modeling through personal example, and "encouraging the hearts" of followers. Leaders, they say, live their lives backward by imagining a future state and then creating the path to get there. Their followers then adopt both that goal and the process for achieving it because they trust the leader's motivations.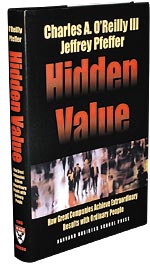 The insights of Bennis, Kouzes, and Posner resonate with our experience at Booz Allen. We have witnessed the unraveling of promising leaders when they have betrayed the trust of followers. These aspirant leaders had many flaws, but almost always the path to ruin was the betrayal of trust. This betrayal took several forms, such as telling their followers one thing and then doing another; putting their personal agendas ahead of those of their organizations; and failing to hold themselves — and their followers — accountable for promises made. Invariably, the result of this duplicity was that leaders became unable to enlist followers in the activities needed for organizational success. We have seen leaders succeed against overwhelming odds, however, when they have put aside their egos and understood that the purpose of leadership is to enable others to achieve their goals and the goals of their organizations. Thus, the most successful leaders we have observed are dedicated to creating other leaders. That is why even the best books that deal with the "character" of the individual at the top fail to tell the whole story of leadership.
An Institution's Capacity for Leadership
On this score, James O'Toole, in Leadership A to Z: A Guide for the Appropriately Ambitious (1999), draws a useful distinction between who leaders are and what leaders do. Through case studies and historical vignettes, he demonstrates that leadership is, in the end, an institutional capacity. O'Toole doesn't ignore the obvious fact that the character of individual leaders is important, but he shows that great leaders throughout history have also inspired others to lead.
These leaders achieved more than anyone thought possible at the time because they didn't try to do it all themselves. Instead, they were able to transcend their individual limitations by sharing the power and responsibility of leadership.
O'Toole's argument that an organization's capacity for leadership can be both measured and enhanced through conscious effort meshes so closely with our experience that it has come to inform our entire approach to leadership. Instead of trying to change the basic styles and personalities of individuals, we have concluded it is almost invariably more fruitful to help companies create systems and practices that enhance their overall leadership capabilities.
Sumantra Ghoshal and Christopher A. Bartlett, in The Individualized Corporation: A Fundamentally New Approach to Management (1997), focus on how to build that leadership capacity. They argue that corporations need to move from a philosophy of "contract, compliance, control, and constraint" to one of "stretch, support, discipline, and trust." Ghoshal and Bartlett argue that even a casual observer can tell the difference between organizations by the "smell" of the place. The poorly led organization reeks like Calcutta on a steamy summer day; the well-led company smells like springtime in the forest of Fontainebleau! When organizations are "fresh," they are more likely to adapt successfully to a fast-changing environment. The authors contend that as companies are transformed from "foul" to "fresh," they engender learning, initiative, commitment, collaboration, confidence, and successful execution.