He believes it all starts with the CEO, one who wants board members' help and then is prepared to engage them in productive dialogues. From there, Charan argues for a simple regime. Keep committees to a minimum, have fewer but longer board meetings, and get rid of executive committees along with lead directors and nonexecutive chairmen.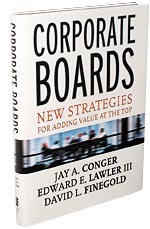 Pawns and Potentates
In Corporate Boards, we say directors are potentates and pawns. The potentate role stems from the fact that board members are likely to be CEOs or retired CEOs who have a deep appreciation for the chief executive's leadership challenges in a turbulent and complex world. Board members who are experienced CEOs are also acutely aware that micromanagement by a board can be as detrimental as a completely hands-off approach. They much prefer playing the occasional coach to playing the watchful judge. This very capacity to empathize, however, can turn them into pawns.
As Charan and Kennedy's contrasting views show, boards must deal with the conflict between the two main roles they're asked to play: strategic partner with top management in formulating strategy and independent overseer of management. The best way for boards to succeed in their multiple, sometimes conflicting, missions is to put structures and practices in place that make the board strong and independent. With structures to ensure careful ongoing oversight, individual directors and the board as a whole can work closely with top management to enhance strategy and organizational effectiveness. Our research suggests eight key elements to make boards more effective in their oversight roles. (See "Eight Elements of an Effective Board".)
Eight Elements of an Effective Board
1 Independent directors (with no formal business or family ties to the firm prior to joining the board) constitute a clear majority (at least two-thirds) of all board members.
2 Each director's knowledge and abilities are assessed regularly against the firm's changing market and technological demands.
3 Independent directors chair and control key committees (compensation, audit, and nominating/corporate governance). The compensation committee consists solely of outside directors.
4 Chairman and CEO roles are separate; there is a lead director, and regular executive sessions are held without inside directors present. This helps outside directors bond and establishes clear leadership of the board itself.
5 Employees, customers, suppliers, and investors have direct communication channels to the board, independent of management.
6 The board's staff and/or resources allow it to conduct its own analysis of issues (e.g., in benchmarking executive compensation); individual directors who perform significant extra duties are recognized and rewarded by the board, not by company management.
7 The CEO has specific performance targets relative to key competitors; a formal annual evaluation of the CEO includes clear written and oral feedback.
8 Succession planning reaches down several levels of management.
Source: Adapted from Corporate Boards: New Strategies for Adding Value at the Top
Independent and Accountable
Our corporate board muscle-building practices are less radical than those proposed by Kennedy, but they increase the likelihood that boards will have the knowledge, information, power, and time to provide effective oversight that serves multiple stakeholder interests. But we don't answer the question, To whom should the board itself answer?
Corporate boards are in the relatively unusual position of assessing their own performance and setting their own rewards. Relying heavily on the firm's top managers to hold the board accountable — the de facto solution in many companies — is, as Kennedy points out, fraught with problems, because it compromises the independence the board needs to establish.
Our research suggests boards should consider several steps to ensure that they will respond to the firm's multiple stakeholders: