Would it make sense for Hewlett-Packard's board to appoint Tom Peters as its CEO, or for General Motors to install Peter Drucker at its helm, or for IBM to give Stephen Covey a shot at running its shop?
If management gurus and best-selling authors seem miscast for those executive roles, that's probably because there's little correlation between having the ability to write clearly on the subject of corporate leadership and being a successful CEO. Yet, over the years, when the CEOs of such companies as HP, GM, and IBM have dipped their pens in ink, enthusiastic book buyers have made their scribblings bestsellers. Apparently, many readers believe top executives are as capable of writing useful books about management as they are at running big businesses.
That may explain why a first-time author like Jack Welch got a publisher to fork over a $7.1 million advance for his new memoirs (working the back of an envelope, that's some 20 times the heftiest advance Peter Drucker ever pulled down). But it's harder to fathom the shared belief of both publishers and book buyers that CEOs have something new or valuable to say — and, if they do, that they can communicate it effectively.
Having recently plowed through more than a dozen CEO memoirs, I've concluded that the publishing and purchasing of such books represents the triumph of hope over experience. With precious few exceptions, books by top executives are ego trips, at worst, and thin gruel, at best. Presumably, we turn to executive memoirs because we want to learn to be better leaders ourselves. There's the rub. The art of becoming a leader has more to do with insight than with mastering a set of how-tos, and writing a good book requires more understanding than it does experience. Most executive authors are long on experience but short on insight (and draw blanks when it comes to the introspection that makes for great autobiography). Thus, the only value we should expect from executive memoirs is a little practical advice based on experience. Oddly, most books in the genre fall short within this dimension, as well. So what we get for our money is platitudes and self-serving war stories. Below, I review a few exceptions to these rules. But, sadly, these are among the few diamonds to be found in a vast pit of coal.
Doers, Not Thinkers
That few CEOs are insightful about their craft should not be surprising. After all, they are paid to be doers and not thinkers. This isn't an antibusiness rap: The same holds true for politicians, actors, artists, and athletes who write books. In general, people who are extremely talented at doing something are seldom as adept at theorizing about it or at teaching their skills to others.
Consider an unintentionally hilarious interview with the late sculptor Alexander Calder, which is occasionally replayed on public television. The artist is asked to explain the thought process that went into the creation of his famous mobiles, those fantastic works composed of pieces of brightly colored metal Calder dangled magically on thin pieces of wire, one under the other, in precarious balance. "Sure," Calder growled, "you take a hunk of metal and some shears, and then you keep cuttin' the metal 'til the damn thing ain't tippy when you hang it." Like many creative geniuses, Calder could innovate, but he couldn't articulate.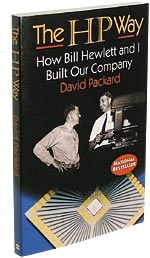 The same was true for the late David Packard, cofounder of Hewlett-Packard. Packard was as much an innovator in his field as Calder was in his. Packard created a marvelous corporation that he led brilliantly over some three decades, during which he introduced numerous managerial techniques — Management By Walking Around (MBWA), for example — that have become standard operating procedure in many businesses. In light of his manifest accomplishments, Packard's 1995 memoir, The HP Way: How Bill Hewlett and I Built Our Company, is paradoxically unsatisfying. We go to the book expecting to learn more about the reasoning behind MBWA, why he adopted it, how he practiced it, and its pitfalls and appropriate applications. But we don't find answers there. Not only does Packard fail to offer a clear exposition of his influential leadership practices, he doesn't provide practical advice. To gain both insight and useful information about the "HP Way," we are better off reading one of the many accounts of the corporation proffered by management gurus over the last two decades.