Corning has a long history of partnering with outside companies to drive change. Prior ventures with Siemens and Samsung, among others, focused on leveraging Corning's core skills in materials science to enter new markets (telecommunications and display products, respectively). In most cases, this model has proven quite successful. Since Jamie Houghton took over as C.E.O. in 1983, Corning's stock split three times, driven by growth in the optical fiber business and an expansion into the fast-growing clinical testing business. This time, however, the nature of change was fundamentally different. Increased competition in the optical cable business, the growth of managed-care providers driving down prices in the medical testing market and the entry of low-cost foreign competitors into the long-stable housewares market all highlighted the need to challenge existing business models. As a result, management identified the need to move quickly beyond a strategy of relying upon breakthrough new products and growth markets to one that also emphasized value, speed and customer satisfaction.
In late 1993, these issues were brought to the forefront when Corning posted flat operating earnings and a net loss of $15 million, driven by a one-time write-down of its equity in Dow Corning related to legal issues associated with breast implants. This marked the first time in nine years that Corning had failed to meet its earnings targets. The market responded by reducing its valuation of Corning by 25 percent. This drove management to commit to establishing a program to produce significant improvements in performance across the company. As a result, management decided to undergo a structured re-engineering process to enhance Corning's competitive position, and ultimately shareholder value. Its goal was to reduce operating costs by some $450 million over three years while creating the right capabilities to drive profitable growth.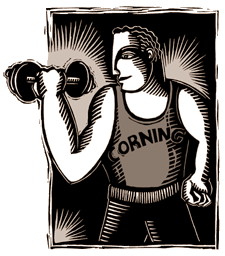 Illustration by Evangelia Philippidis
While Corning management realized the need to take an integrated approach to transformation, it also recognized the necessity of working within the context of the company's environment. Since more than half of the 12,000 residents of the company's home town of Corning, N.Y., are its employees, a massive effort to reduce costs would have been disastrous to the community. Working with Booz-Allen, Corning established the platform of Corning Competes, avoiding the "R" word (re-engineering) and its negative "downsizing" connotations. The Corning Competes label gave management the vehicle to define Corning's purpose--preparing for growth and recognizing the need to deal with costs, but also being sensitive to the community. And community sensitivity is an issue, according to Mr. Houghton, who notes that Corning is "the biggest company in the smallest town in the United States" (The Economist, Sept. 9, 1995). Corning thus developed its own brand of re-engineering, one that made the human and community elements important considerations in how the goal was to be achieved.
WALK THE TALK, AND TALK A LOT
To achieve its goals, management recognized that Corning's culture could use its own dose of re-engineering. In the past, visitors to the Corning valley would describe a paternalistic, functionally driven and risk-averse environment. Employees valued consensus; in the words of Jamie Houghton, people were "polite, and averse to confrontation." Kirk Gregg, vice president for executive resources and employee benefits, agreed, noting that "we spent a lot of time gaining consensus...we needed fewer committees, and more conviction." If Corning was to react faster to market and customer needs, management would have to speed decision making, create a cost-conscious environment and encourage the horizontal flow of information across the organization.
EXHIBIT I
"CORNING COMPETES" PARTNERSHIP STRUCTURE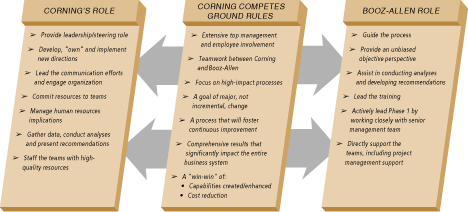 As a result of using a partnership format, there were defined roles for each of the participants, as well as the ground rules for the entire process.
Corning did not want to turn the effort over to a consultant, but wanted a true partnership in driving change.