This project demonstrates the importance of "visible leadership," which encourages the give and take of ideas and facilitates the realization of product concepts.
Engendering a culture of front-runners. The last directive for top management is to foster a corporate culture favorable for creating front-runners. Although the various corporate policies discussed so far do implicitly engender such a culture, managers must also clearly and directly articulate their operating principles.
Companies that have successfully developed original and epoch-making products have one thing in common. That is, a good-natured culture of competitiveness that sends the following messages to employees: "We must make something no one has ever seen before" and "Second-best isn't good enough."
Top managements play a large role in helping employees to internalize these values. To mark Fuji Photo's 50th anniversary in 1984, Minoru Onishi, then the president and now the chairman, proclaimed the company's "Second Founding" by articulating the principle of I&I (Imaging and Information). He called on his employees to "return to basics" and "create innovative products."
The bible at Canon is a document, entitled "Research and Development Principles," that enshrines the following ideals: "Create a field of technology and a line of products that the world has never seen" and "Respect the competition's technology and products" (i.e., do not simply imitate others).
In Sharp's case, the founder, Tokuji Haya-kawa, imbued his company with a sense of "sincerity and ingenuity." According to Mr. Asada, the senior vice president, "The role of top management is faithfully to pass on the founder's ingenuity with adjustments for the demands of the times." Sharp is now in its third generation of company presidents; each president has passed on the spirit of its founder to the next.
Together, Japan's corporations, by making such ideals the backbone of their management policies, will engender a culture of front-runners.
TOP MANAGEMENT MUST TAKE HIGH RISKS
For the top management of Japan, who hold the future in their hands, an essential part of becoming a front-runner is designing epoch-making new products, not to mention developing new businesses.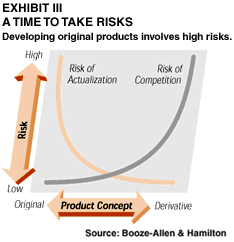 However, as shown in Exhibit III, it is now necessary to take high risks to create original products, which was not the case in the catch-up era, when companies could compete
sufficiently even with similar products. Therefore, if top managers do not get closely involved and display bold leadership, success will remain elusive.
The ways in which top management should display leadership can be summarized in the following three points:
1) Promote a new paradigm of product development strategy. The key to this is strengthening the process of discovering new ideas and new product concepts while speeding up the process of product development. In short, management needs to convert to a new strategy that emphasizes product value and speed, rather than quality and cost.
2) Focus company resources and reduce actual risks by clearly articulating strategic direction.
3) Vigorously push forward the process of creating epoch-making products. This includes the following two elements:

Creation of an environment (organizations, systems, corporate culture) that is hospitable to helping new ideas emerge.

Direct intervention of management in the give and take, evaluation and realization of new ideas.
These points are what define the management leadership style that is being implemented with good results at all top corporations. They are the conditions necessary for new managers to lead their companies to success in the 21st century.

Reprint No. 97205
Authors
---
Motokazu Orihata,

Motokazu Orihata is a vice president of Booz-Allen & Hamilton and has consulted to numerous Japanese companies in the areas of business strategy and research and development strategy as well as organizational change. Mr. Orihata received his undergraduate degree in engineering from Tokyo University and a master's in management science from the University of California at Berkeley. Mr. Orihata has been a special lecturer at Tokyo University and has published widely.