Many other products are possible along the same lines, requiring certain "healthy" behaviors in exchange for enhanced benefits and lower costs. One can also envision health-services plans that reduce costs by relying heavily on advanced practice nurses for routine care — a difficult product to mandate for one's employees today, but one with great potential attraction in a more customized, consumer-driven market.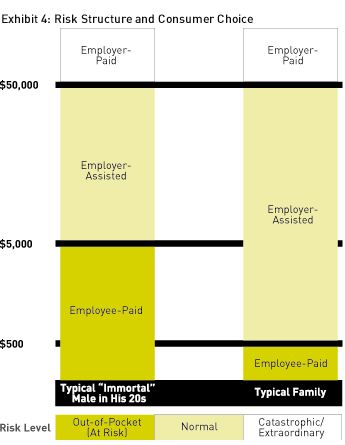 In an open marketplace with low penalties for switching products or plans, transparency of products and performance will foster intense competition for customers. Consequently, customer service will rise as insurers move from a wholesale to a retail mentality in their relationship with policyholders. Customer service and clinical data will be readily available to consumers through Web-based retailers of health plans.
Employers, too, will innovate, purchasing certain specific types of coverage beyond the defined contribution for their employees, based on enlightened self-interest. For example, because of cost, many consumers might select products that do not provide substance-abuse services. Some employers, on the other hand, might see this coverage as a valuable mechanism for reducing absenteeism, turnover, and accidents. Purchasing special-purpose coverage based on business needs could become common.
Consumers will also begin to make trade-offs that will moderate the seemingly limitless demand for medical services. By making explicit decisions up front about risks, features, and prices, consumers will have incentives to compare different treatment options and approaches. Should I treat that gallbladder disease by surgery or medicine, or can I make lifestyle changes? Is that branded pharmaceutical really better than the generic? Does the data show this cheaper alternative procedure to be as effective as that more expensive traditional treatment?
Dictating or mandating these choices is a hopeless and thankless effort, but empowering consumers to make these choices for themselves could be a positive force for real change. Much as reduced consumption rates under the early days of managed care permitted the addition of coverage for routine care, further real reductions in consumption rates could free up billions of dollars in economic value for enhanced benefits, reduced costs, and increased profitability for the health-care and -benefits providers.
Unfolding Opportunity
As with any new approach, it is very easy to describe the current paradigm and to envision a new one. The problem is that transitions don't occur magically from one mature concept to the next. The messiness in the middle is why change is hard — and some guidance in anticipation of that coming messiness seems in order.
Even at this early stage, the challenges and opportunities are anticipated:
Employment-based group underwriting may survive the first wave of change. That is, a consumer would access a Web-based plan retailer (i.e., HMOsRUs.com) as a member of a specific employer or affinity group. This vestige of the old world may be necessary to avoid Darwinian underwriting that would penalize people with high-risk profiles. In the future, however, assigned risk pools, non-employment-based groupings, or other innovations could be used to ensure fairness for the individual.

Medical savings accounts or other tax-advantaged approaches may be necessary to permit consumers to pursue risk horizons beyond a single plan year. This could, for example, permit the "immortal" single males in their 20s to fund in advance their higher risk years (e.g., parenthood, middle age) with today's excess defined contribution.

Industry players who wait for a defined-contribution trend risk missing the wave entirely. The surf will crash over them and benefit the first movers who establish defensible long-term positions. Furthermore, those insurers who fail to prepare for a more Web-savvy and health-conscious consumer not only will fail in the world of defined contribution, but won't survive long in today's world.

It is not too early for insurers to start strategizing to compete in the world of defined-contribution health benefits. Value chain roles (and potential niches) in product design and underwriting, distribution and sales, information aggregation, transaction processing, e-commerce infrastructure, and so on are all up for grabs.

Defined-contribution health-benefits plans may lend momentum to the existing benefits outsourcing trend. Total benefits outsourcers seem poised for growth as companies seek ways to reduce costs and focus on their core activities. Some large insurers may even forward-integrate by acquiring (or allying with) major benefits managers or outsourcers.

Some large insurers may attempt to catalyze the coming revolution. One way they may do so is by approaching major accounts with attractive propositions for prototype products tailored to the new defined-contribution parameters.

E-commerce players also need to begin staking out their distinctive roles. Who will become the HMOsRUs.coms of the future — and what infrastructure challenges will these Internet players face?

Hospital systems, physician groups, and other health-care providers may become bigger players if limited-panel HMO products regain popularity and can be locally or regionally branded. E-commerce would level the playing field for these scale-disadvantaged competitors.