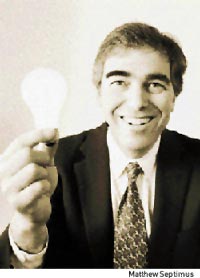 For many Americans, the first inkling that the Internet was something larger than a toy was the 1998 television advertising of Priceline.com Inc. Starring former Star Trek actor William Shatner, the commercials invited consumers to access the World Wide Web and name their own prices for airline tickets. It was absurd — unheard of — although it's a fair bet that few were able to articulate the economist's reasoning for the miracle at hand: An independent company had just rendered the opacity of airline yield management startlingly transparent.
Such was the inspiration of Jay S. Walker, then 42 years old. The Queens, N.Y. native, a Cornell University alumnus and born salesman, had bounced through entrepreneurial ventures — newspaper publishing, catalog marketing, art vending — before scoring a triumph with a startup service that automated readers' magazine subscription renewals. The company made Mr. Walker wealthy. Having stumbled on the fact that business models could be patented as readily as a pharmaceutical company's molecules, Mr. Walker then started a laboratory for the sole purpose of developing strategic theories and concepts that could be turned into businesses, thanks to the Internet, and patented.
Priceline.com, one of the first enterprises to emerge from the Walker Digital Corporation lab, developed from a system that allows companies to dispose of excess inventory at optimal prices, using a double-blind methodology that doesn't diminish the provider's brand or its ability to charge full fare for its non-surplus goods. The idea was so attractive, so original, that upon Priceline.com's IPO in March 1999, investors accorded the company a value of some $13 billion — with nearly half belonging to Mr. Walker.
Priceline.com, which recorded first-year revenues of $35 million, has extended its price-distribution system beyond transportation into hard goods. Embodying the Berkeley economist Hal Varian's premise that "yield management is where it's at", the company started Priceline WebHouse Club, a name-your-own-price grocery purchasing service. In February, it began selling gasoline under a similar procedure. Meanwhile, Walker Digital continues to file new patents, even as it challenges — and is challenged by — others in what many see as a developing patent free-for-all over Internet business models.
The corporate family Mr. Walker has built atop his assets seems a long distance from the Alley-and-Valley culture one associates with e-commerce. Spread across low-rise buildings in several Connecticut suburbs, Priceline.com and its sister companies are sober, professional, and adult. Mr. Walker makes decisions from a large, wood-paneled office that is lined with leather-bound Franklin Library editions, and hung with memorabilia, some political (including Richard Nixon's terse resignation letter), and some related to America's space race.
Behind Mr. Walker's desk are four full shelves of thin, unidentified volumes. One-half-shelf's worth are bound in red — patents granted; the rest are bound in blue — patents pending. But if these are the cards he is playing in the New Economy sweepstakes, Mr. Walker resists the notion that this is a game of chance. He was reminded by his interviewer that, just out of college, they played together in an occasional card game that also featured the now-prominent hotelier Andre Balasz and the corporate restructuring expert Thomas Epstein. Asked if he remembered how he fared, Mr. Walker responded: "I never considered myself a very good gambler."
S+B: While people around the country are familiar with Priceline.com, by virtue of its advertising, few, I suspect, realize that this grew out of a company you created earlier, Walker Digital, whose raison d'etre was the development of commercially viable ideas. What moved you in a direction others would consider esoteric?
WALKER: I'm a theorist who is interested in how people think about issues, who wants to understand the abstract levels at which things operate, and then reintegrate those abstractions back into real commercial value.