The Wall Street Journal gave purchasing front-page play in 1992 when the newspaper featured J. Ignacio Lopez de Arriortua. His aggressive tactics had delivered a desperately needed $1 billion to the bottom line of the General Motors Corporation, and that was big news. Thomas Stallkamp ascended to the presidency of the Chrysler Corporation after he'd introduced a collaborative approach to purchasing at a time when the company badly needed more support from its suppliers to compensate for its size disadvantage relative to GM and Ford Motor Company. Before he retired last year, Gene Richter led a string of top companies — Black & Decker, Hewlett-Packard, and IBM — to "world class" procurement practices.
Although each man focused on a different aspect of performance, all three destroyed the notion that purchasing was some kind of backwater for failed executives. In fact, these executives led a sea change in CEO perceptions of purchasing. Now CEOs have become addicted to the fast bottom-line savings purchasing delivers, and they have come to expect continuous performance improvement.
Unfortunately, every technique in the purchasing tool kit generates diminishing returns when applied in a static environment. Squeezing supplier margins the way Mr. Lopez did works for a while, but eventually leads to financially unstable suppliers who no longer invest in innovation. Even the collaborative design efforts championed by Mr. Stallkamp can lead to a dysfunctional cycle in which suppliers accept design waste up front to leave room for annual improvements. Buyers and engineers feeling the enormous pressure from above become coconspirators with suppliers in this new game of "meet the target or else."
Our work with leading companies across a host of industries has shown that a static model focusing on a single performance lever simply won't work. Instead, success comes from a Continuous Sourcing Cycle to capture margin, reduce cost, manage demand, and create value. (See Exhibit 1.) Rotating through all four of these phases produces a dynamic of change — a new supply base, newly specified parts, a recently merged enterprise — that creates an environment ripe, once again, with opportunity.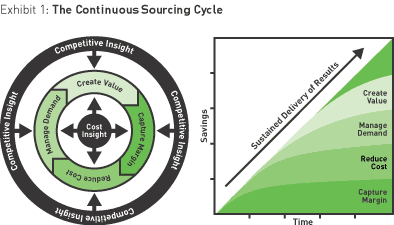 Savings Waves
The Continuous Sourcing Cycle offers a systematic approach to driving bottom-line improvement through purchasing. The approach produces wave after wave of savings by cycling through four distinct methods of extracting value from the supply base.
Readers familiar with Balanced Sourcing: Cooperation and Competition in Supplier Relationships (Jossey-Bass Inc., 1998) might see this articulating of the Continuous Sourcing Cycle as a contradiction. We don't agree, and we can explain.
Balanced Sourcing defines a philosophy of cooperative supplier relationships coexisting with a comparable commitment to competitive pricing. In fact, focusing on the relationship alone can generate supplier "partnerships" built on blind trust — not a wise basis for a long-term commitment. Equally damaging, a single-minded focus on competitive pricing independent of supplier relationships can produce a Darwinian rivalry that keeps suppliers on their toes, but fails to capture the value of innovative solutions possible from a more balanced model.
Achieving the balance between price negotiation and partnership requires six organizational capabilities: modeling total cost; creating sourcing strategies; building and sustaining supplier relationships; integrating the supply web; leveraging supplier innovation; and evolving a global supply base.
The Continuous Sourcing Cycle isn't a new, alternative philosophy to the concept of Balanced Sourcing, but simply an approach for achieving its desired equilibrium. As one strategist described it, "A playground teeter-totter offers a good metaphor about balance. But don't imagine yourself straddling the pivot point with hands extended making slight adjustments to keep both ends in the air at the same time. It feels more like continuously running back and forth from one end to the other at lightning speed to lift the end most at risk of touching the ground at any given time!"