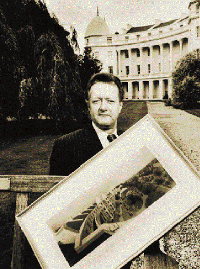 John A. Quelch is a practical strategist — a hands-on brain, if you will. He is energetically guiding the London Business School, of which he became dean in 1998, through a transformation he confidently believes will make it the most prestigious institution for international business education and training in the world. With one eye on that lofty goal — and the other trained on such competitors as the University of Pennsylvania's Wharton School, his alma mater; the Harvard Business School, where he received his doctorate and taught for 18 years; and a vigorous European competitor, INSEAD — Prof. Quelch has unloosed a panoply of arrows from the marketer's quiver: a new faculty, a new mission ("transforming futures"), a new logo, and an unabashed dedication to making his teachers, students, and school, as he puts it, "famous."
If it all sounds a trifle unacademic, a little too earthy, it merely represents the managerial manifestation of his scholarly bent. That's because Prof. Quelch, 49, the "polar opposite of a stuffy Oxford don," according to London's Guardian newspaper, has devoted a large portion of his career to steering students and CEOs alike through the thickets and landmines of global marketing.
During the 1980s, consumer products companies and advertising agencies both succumbed to a theory posited by Prof. Quelch's Harvard colleague, Theodore Levitt. In an influential 1983 Harvard Business Review article, "The Globalization of Markets," Prof. Levitt held that international economic and cultural integration were making it possible to sell the same products with similar campaigns, themes, and devices in multiple markets around the world. That thesis helped propel the megamerger boom in the ad industry; Mr. Levitt even ended up on the board of Saatchi & Saatchi, the British company most identified with global concentration in advertising. His predictions about cross-border standardization in products, pricing, and marketing also induced many companies to centralize their marketing planning in corporate headquarters.
Prof. Quelch, the author of numerous articles, more than 100 case studies, and 15 books, among them Global Marketing Management (Addison Wesley Longman, 1994), urged a practicality which, against Levitt and his acolytes, seemed almost iconoclastic. Only certain products can be marketed globally, he cautioned. Local differences will continue to require different approaches to pricing, marketing, and brand management. Prof. Quelch's grounded wisdom prompted Martin Sorrell, chairman of the WPP Group PLC, to ask him to serve on the board of directors of that advertising conglomerate, which recently became the world's largest with its acquisition of Young & Rubicam Inc.
While that acquisition would, from the outside, seem to betoken a resurgence in globalist marketing thinking, to Prof. Quelch, it shows quite the opposite. Interviewed in May in his office overlooking London's Regents Park, he was quite forthright about the need for all marketers to look locally for answers — and for profits.
S+B: It's been 17 years since Ted Levitt published "The Globalization of Markets," and almost as long since you began arguing for a more balanced approach to global marketing. Marketers seem to have accepted those more measured views espoused by you and Northwestern's Philip Kotler. Yet at the same time, the great global brand marketers — Procter & Gamble, Unilever, others — are in the doldrums. Has globalism — however it's managed — been oversold?
QUELCH: The most interesting quote I've seen in the last six months on this issue is from Coca-Cola CEO Douglas Daft in The Wall Street Journal: "Think local, act local." For the new CEO of what many would consider the bellwether global brand to be quoted in that vein suggests that many companies have found it difficult to penetrate country markets, beyond just skimming off the segment of the population that happens to be enamored of global brands and is willing to pay a price premium for them. Once they've done that, they then have to penetrate further into the guts of the mass market in order to build sales volume. That's when they find that the standard global marketing program is simply not going to be adequate.