Defining Segmentation for the Web
To develop a consumer segmentation system, we analyzed Nielsen//NetRatings' click-stream data collected between July and December 2000 from 2,466 users. We quickly saw the need to go beyond conventional methods of segmenting audiences. Many types of people use the Internet, but we could not find a predictive demographic typology. Neither could we find actionable predictive patterns when we analyzed individual user data to find groups of people who routinely engaged in one sort of activity over others. In fact, an early attempt to segment groups based on behavior found that almost 60 percent of online users exhibited a similar "average" behavior, meaning they fell into the same broad segment, which we dubbed "Pat Q. Public." However, the large Pat Q. Public category actually masked a set of distinctive behaviors: As in offline life, any one person would engage in different activities online at different times.
We then analyzed the click-stream data by exploring session characteristics. A session begins when a user logs on to the Internet, and ends when he or she logs off; it includes the entire click-stream generated during that time. A total of 186,797 individual user sessions were included in the data. After examining numerous aspects of online conduct, we found that four variables proved most significant in defining discrete clusters of behavior:
Session Length. The time a user stays online.
Time per Page. The average time a user spends on each page during a session.
Category Concentration. The percentage of time a user spends at sites belonging to the most frequented category. For example, if in a 10-minute session, five minutes were spent at sports sites, three minutes at news sites, and two minutes at entertainment sites, the category concentration would be 50 percent (the category being sports sites).
Site Familiarity. The percentage of total session time a user spends at familiar sites, defined as those previously visited four or more times.

In turn, these four session variables combine to define the seven usage occasions. (See Exhibit 1.) The following list arranges them by session length, the best overall marker of what's happening in a session.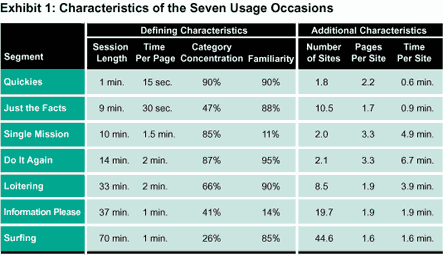 Quickies occasions are typically short (one minute) and concentrate on visits to two or fewer familiar sites. Users spend about 15 seconds per page extracting specific bits of information (sports scores, stock quotes) or sending e-mail. Sites requiring a longer time commitment — entertainment, shopping, and communities — are not on the itinerary for this type of session.
Just the Facts occasions involve users looking for specific information from known sites. At nine minutes, these occasions are longer than Quickies, but similar in that both involve rapid page views (30 seconds each). In Just the Facts sessions, users find and evaluate bits of information from related sites. For example, a woman seeking a certain type of shoe would move quickly from Web site to Web site, checking for the right style, size, and price, until she found just the right pair. These sessions typically include visits to transaction-oriented or time-consuming sites, such as shopping, travel, and sports sites. Just the Facts occasions are less likely to involve sites best enjoyed at leisure, such as entertainment.
Single Mission occasions involve users who want to complete a certain task or gather specific information, then leave the Internet. At 10 minutes, the average session is about the same length as that of Just the Facts, but the 1.5-minute page views indicate the occasion involves more reading than in Quickies and Just the Facts sessions. When on Single Missions, users venture to unfamiliar sites and concentrate on sites within one category (e.g., sports, portals/search engines, entertainment, real estate). E-mail services are rarely visited. In a sample occasion, a woman seeking information about her high-school reunion would start at a search engine to find her school, click around to find the reunions page, learn about the logistics and registration for the gathering, and log off.
Do It Again occasions are 14 minutes long and notable for the lingering two-minute page views. The name reflects the strong focus in these sessions on familiar places — users spend 95 percent of the session at sites they've previously visited four or more times. These users repeatedly go to favorite sites for auctions, games, and investments. Typical activities include completing bank transactions, downloading MP3 files, and participating in chat sessions. These occasions rarely involve searches, since users know exactly where they want to go.
Loitering occasions are leisurely visits to familiar "sticky" sites, such as news, gaming, telecommunications/ISP, and entertainment sites. They average 33 minutes in duration with two-minute page views. A typical visit might involve reading about favorite TV shows and celebrities on a TV network site. In this type of session, there are few visits to sites that offer quick, practical bits of information, such as weather and shopping sites.
Information Please occasions average 37 minutes and are used to build in-depth knowledge of a topic. For instance, a user might research all aspects of buying a car — finding the most appealing model, computing trade-in value, finding a dealer, arranging a loan. Unlike Single Mission users, Information Please users are gathering broad information from a range of sites. Information Please sessions tend not to concentrate on a single type of site, or on familiar sites; users are going far afield from their usual destinations. These occasions are heavy on travel and automotive Web sites, but light on telecom and portals/search engine sites. Users tend to jump among linked sites without resorting to a search engine.
Surfing occasions are by far the longest, averaging 70 minutes, with few stops at familiar sites, as users hit nearly 45 sites in a typical session. Time per page is a minute or more, suggesting wide, but not deep, exploration. Users gravitate to sites that grab their attention immediately — shopping, online communities, and news — and spend little time at portals/search engines and education sites. Since these sessions are not concentrated in any one category, they appear to be random. One user in our sample, for example, checked e-mail, then read soap opera updates, and then checked prices on amusement parks.