Suppliers who had their eye only on their own margins concentrated on producing only those components that gave them the greatest return on their manufacturing investment. Ken Dulaney, an analyst with Gartner, observed, "Everybody wants to make processors, because there's a lot of margin in them…. But the little things around [the processor] — capacitors, resistors, support chips — we're short on. And I think the problem is going to get a lot worse." Compaq's Mr. Capellas showed no greater optimism: "I think [shortages] will be with us all for six to nine months; it's forcing us to adopt some very, very good practices, like making sure our demand forecasts are a lot better."
Capacitor manufacturers did respond to the shortages, running their plants three shifts a day, seven days a week. Although production capacity is starting to expand, the pace is hardly breakneck. At pennies apiece and with tiny commodity margins, capacitors and resistors need to be sold in major quantities to support the kind of growth necessary to underwrite a fully responsive new factory.
Soon after the parts shortage started, most PC and electronics manufacturers missed their 2000 year-end quarterly earnings and revenues and revised their 2001 outlook, blaming the general downturn in the U.S. economy. Compaq itself missed fourth-quarter 2000 earnings and revenues after a record third quarter, and later in March cut 5,000 jobs.
The Compaq report card helps provide an overview. (See Exhibit 4.)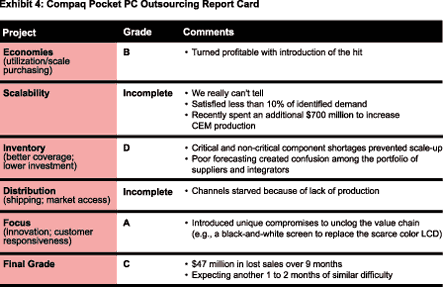 Outsourcing: The Diagnosis and Prognosis
No two outsourcers have identical problems. Some OEMs were unable to construct an outsourced supply chain that allowed them to bail out when growth didn't materialize. Others, like Compaq, were unable to coordinate the efforts of the value chain links in a way that increased total system capacity. Both found that traditional techniques, like flooding the pipeline with inventory, did not yield a solution.
Why don't the old solutions work? Because moving to an outsourced model fundamentally changes your business, and the old rules don't necessarily apply.
A number of OEMs outsourced manufacturing without recognizing this and incorporating these changes into how they designed their new supply chain. As a result, a lot of OEM/CEM relationships simply were structured poorly. When the chains were put into operation, the wrong tools and approaches amplified problems involving shortages and coordination. Most of the problems fell into two categories: old vertical thinking and misalignment of agendas.
Old Vertical Thinking. OEMs were guilty of old vertical thinking, or trying to run the supply chain as though it were all still under one roof.
Before outsourcing changed the rules, OEMs could take advantage of such in-house production capabilities as capacity; the ability to make changes; and the ability to turn around prototypes. Because marketing goals, R&D goals, and manufacturing division goals often were aligned at the corporate level, trade-offs could be negotiated internally to facilitate production. When manufacturers moved some of these basic functions out of house, they either were charged for those "special" — i.e., outside the contract — services or just couldn't get them.
Old vertical thinking was not limited to OEMs. By insisting on business as usual, CEMs also lost access to informal communication and problem-solving channels. The water-cooler comment from the marketing department that "the way these things are selling we may need to work that extra shift after all," or the flexibility to grab the critical spare parts locked in the just-in-case closet, wasn't available. In fact, the CEM negotiators probably didn't even realize that such options existed when they constructed the terms for the OEM relationship. And when the grease that smoothed the product flow was not available, the value chain ran rough.