Since patent expiration dates are readily available, it is possible to determine how much revenue will be lost as a result of patent expiration in the near future. (Patent protection in the United States lasts 17 years, although it can be extended through various legal maneuvers.) We estimate drug companies will lose a total of about $50 billion in revenue due to prescription-product patent expirations between 2001 and 2006. (See Exhibit 2.) As we look ahead to 2010, estimated revenue loss for the top 14 pharma companies increases to a total of $85 billion. Those most affected are the industry's current sales leader, Pfizer ($15 billion), GlaxoSmithKline ($14 billion), and Merck and AstraZeneca (about $11 billion each).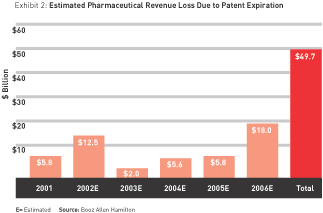 As we consider the $50 billion in revenues from prescriptions whose patents will be expiring over the next half-decade, the FDA "filters" can help determine how many prescription products are likely to actually make the transition to OTC. The likeliest candidates are drugs in categories that have already been switched, or that the FDA has publicly stated have a readiness to switch; these are categories in which safety and efficacy are firmly established and consumer ability to self-diagnose and self-treat is unassailable (examples include allergy, migraine, and yeast-infection treatments). On the other hand, certain drugs will never switch because the conditions they treat are simply too serious and require a doctor's supervision (cancer, Parkinson's, and Alzheimer's, for example).
The mystery zone lies between these two poles — drugs in categories that have not yet been switched and have no history of consumer safety to buttress their candidacy, yet that treat disease states that are comparatively benign and manageable, at least in the short run. Many OTC companies are pinning their hopes on opening up such new categories, which include medications for hypercholesterolemia (i.e., high cholesterol), hypertension, asthma, arthritis, and benign prostatic hypertrophy (BPH). Statins treating high cholesterol are an area of particular interest, with two likely switch candidates: Merck's Mevacor and Bristol-Myers Squibb's Pravachol. Although the FDA issued an unambiguous "guidance" in 1997 stating that such drugs should be available only by prescription, the agency has subsequently given indications that its hard line may be softening.
It is likely that drugs with a long history of safety and efficacy in their prescription-only form, such as statins, could indeed switch despite FDA concerns. Categories treating relatively mild chronic conditions (e.g., arthritis, obesity) have a better chance of going OTC than those treating more serious, acute conditions (e.g., irritable bowel syndrome). And activists with a pressing public health case, such as the need for asthma medication to treat an epidemic among inner-city children, may find ways to convince the FDA to lower its usual thresholds. In constructing a best-case scenario, we decided to give the OTC industry the benefit of the doubt, and assumed the FDA would approve switches for drugs in the following "borderline" categories: high cholesterol, hypertension, osteoporosis, BPH, and a handful of very common, mild viruses (e.g., rhinovirus). Remember this is a best-case scenario; our assumptions are very aggressive given the current regulatory climate.
Adding up the total prescription sales in 2001 of drugs whose patents expire in the next five years — and that belong to one of the more easily switchable categories cited — we arrive at a total of $15 billion in what we might call "potentially available revenue." That is, about $15 billion worth of current pharmaceutical revenue could conceivably be switched in the next half-decade.
To an industry scaring up about $30 billion yearly, $15 billion is a nice piece of change. Unfortunately, there is a problem: $1 in prescription pharmaceutical revenue does not equal $1 in OTC revenue. In the U.S., prescription drugs are generally reimbursed, leading to very low price sensitivity among the insured population; consequently, pharmaceutical companies are more than able to offset high development costs with significant markups. The question relevant to our analysis is: How much revenue is lost when a drug gets switched? A recent Booz Allen Hamilton analysis indicated that, historically, an OTC drug earns about 20 percent of what its prescription predecessor earned. So $15 billion in "available revenue" becomes more like $3 billion in actual OTC revenue spread over five years.