The second obstacle is more intractable. It's virtually impossible to simply and inexpensively integrate overlapping networks. Configuring a cellular network to run seamlessly using switches from different vendors, as well as multiple legacy customer databases, subscriber authentication systems, and billing platforms, can require enormous labor and maintenance resources and take years to fully accomplish. As a result, combining two existing networks after a regional merger is unlikely to yield significant scale-related cost savings (one of the major reasons carriers would be motivated to merge in the first place) for a long time.
Still, carriers shouldn't view this hurdle as a reason to shy away from the next wave of cellular consolidation. We have identified two consolidation approaches for wireless companies that sidestep the network merger problem, offering the potential to unlock real value while still maintaining a high quality of service.
Scenario 1: Network Migration
What if, instead of integrating two networks, the acquirer migrated the entire customer base of the carrier it purchased onto its own network and closed down the acquired network? This approach is analogous to the switchover from analog to digital cellular phone systems, an arduous task that numerous U.S. carriers have completed successfully.
To illustrate the benefits of this "swallow up" approach, we created a hypothetical example in which BuyNet, a large national carrier, acquires SellNet, a smaller operator. BuyNet has 20 million subscribers and SellNet has 7 million in their overlapping networks, and the two companies have a common communications technology platform (e.g., TDMA/GSM or CDMA). A merger of the two companies would create a powerful No. 2 wireless carrier in the region with a market share of about 22 percent. (All of the numbers used in our analysis of wireless mergers are based on the financial performance of actual companies that are similar in size to the hypothetical carriers described in this article.)
By eliminating SellNet's network, the new BuyNet could cut the total cost per subscriber per month in the first year by about 5 percent, from $47 to $45. (See Exhibit 2.) The slight size of this initial decrease is the result of a 10 percent increase in subscriber churn likely during customer migration, which would offset significant savings from customer support and network maintenance functions, as well as reduced overhead costs. However, by the fifth year, as customer churn levels return to normal, the lower cost structure resulting from the merger should yield as much as a 10 percent reduction in annual operating expense per subscriber from premerger levels.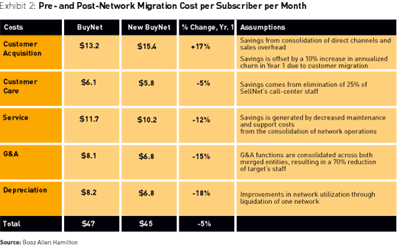 In addition, by Year 5 these cost savings would translate into a nearly 50 percent higher EBITDA for the combined company than what BuyNet's and SellNet's would have been if the merger had not occurred. The merger should also generate substantial capital-expenditure savings because once subscribers are all on a single network, SellNet's network could be turned off, eliminating maintenance and upgrade costs. By our analysis, the merged entity's capital expenditures in Year 5 would be approximately 20 percent lower than without the deal. Because of improvements in EBITDA and capital expenditures, the new BuyNet's cash flow should turn positive after just over one year.
By contrast, if BuyNet had not acquired SellNet — and, thus, never integrated their networks — it would have taken at least two additional years for the combined cash flow of these separate companies to go into the black.
This network migration scenario presents some challenges, however, including:
• Controlling risks in migrating customers from one network to the other. For instance, subscribers might need new handsets or might experience some technical glitches during the switch to a single network. This could increase churn among affected customers.