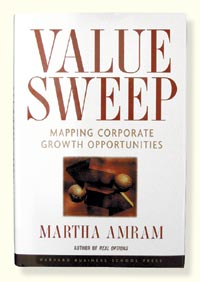 A Practical Tool Kit
After Welch, Slywotzky, and Hagel help you create alternative strategies, use Martha Amram's Value Sweep: Mapping Corporate Growth Opportunities (Harvard Business School Press, 2002) to shape and select the best strategy. Value Sweep aims to provide "a practical, rigorous, and transparent valuation method for growth opportunities." Even though — possibly because — Net Present Value (NPV) analysis is widely used and computationally easy, most companies grossly misapply NPV and misestimate the relative attractiveness of alternative strategies. Amram offers sound, realistic valuation methodologies that demonstrate the need to overcome the inertia of yesterday's strategy and allow companies to assess their growth opportunities on an apples-to-apples basis. We appreciated Value Sweep for four reasons. First, Amram provides tools you can use. Although most valuation books offer frameworks, examples, and "dos" and "don'ts," real-world problems always seem more difficult than the books'. Amram, the president of Glaze Creek Partners, a consulting firm in Palo Alto, Calif., goes further than others, equipping the reader with templates, tables, and (on her Web site, www.valuesweep.com) downloadable spreadsheets. And she explicitly addresses many of the most difficult valuation situations, such as intellectual property and new ventures.
Second, the Value Sweep "mark to market" approach produces valuations consistent with those of the public markets. Of course, "consistent" doesn't mean identical to the stock market's valuation of an individual company; market valuation isn't always correct, and the analyst often has inside information that's not yet impounded in the stock price. In Amram's approach, "consistent" means that a variety of market-based measures — for example, interest rates, risk premiums, volatility, futures prices of key commodities, and typical industry valuations — discipline the valuations and help ground them in reality. As the markets change, so will the Value Sweep valuations.
Some analysts don't like this dependence on the public markets. They believe that they can do better by analyzing the fundamentals. The crazy public market valuations during the dot-com stock market bubble reinforce their point. However, we believe that everyone, including the analysts most committed to fundamental valuations, will find the Value Sweep methodology helpful. Right or wrong, public markets are the place that investments are predominantly valued and traded, and they are becoming ever more ubiquitous. The market's valuations are real, and have real consequences; however excessive AOL's January 2001 valuation proved to be, the company still managed to purchase Time Warner.
Moreover, in our experience, it's always helpful to know how the public market would value an investment if it had the information available to the analyst, whether or not that valuation is considered "correct." If the public market's valuation is significantly higher, it might be better to sell the investment (and in today's markets, in which singer David Bowie can issue bonds on his future license revenue, virtually any investment can be sold!). The strategic implications are significant; public market valuations show how an investment will affect a company's stock price, or the stock price of its competitors if they make a similar investment.
The third benefit of Value Sweep is that it highlights the proactive questioning that an analyst should do to probe the reality of a valuation, to test the critical risks, and to restructure the sequence of investments to increase value. Too often valuation is viewed as a calculation. In her examples, Amram scrutinizes the questions that equity investors and good CFOs ask. The Value Sweep templates include qualitative evaluation; in a section called "The Story," the author challenges the analyst to write two sentences — one with the key argument in favor of the investment and the other with the key argument against.