In 1965, a Harvard Business Review study of top-level executives pronounced that "in the case of … women the barriers are so great that there is scarcely anything to study." Now, nearly 40 years and a feminist revolution later, we have something to study, although it's not what anyone expected in the heady years when it seemed equality might become law: Women account for a measly 6.2 percent of executives (chairman, vice chairman, CEO, COO, SEVP, EVP), according to a study conducted in 2000 by Catalyst, a New York–based business research group. What's more, the pipeline isn't about to disgorge even moderate numbers of women into these positions anytime soon: A whopping 92.7 percent of jobs that lead to top offices are held by men. Whether angry, resigned, matter-of-fact, or hopeful, businesswomen tend to use the same word to describe this rate of change: glacial.
A mountain of books have been written on the subject. Some are academic forays that attempt to tease apart the seemingly intractable root causes of the problem (it's the culture, stupid!). But most are of the 10-steps/secrets-to-success variety (e.g., Why Good Girls Don't Get Ahead ... but Gutsy Girls Do: 9 Secrets Every Working Woman Must Know, or Secrets of Six-Figure Women: Surprising Strategies to Up Your Earnings and Change Your Life). Useful as some of these books might be, they are limiting and deceptive; life simplified to bullet points is not life at all.
More illuminating and encouraging by far are autobiographies by businesswomen that extend readers the courtesy of being allowed to come to their own emotional and intellectual conclusions, and also give an understanding of various professions. The late newspaper chief Katharine Graham's Personal History (Alfred A. Knopf Inc., 1997) is probably the outstanding example; its bestseller reception is indicative of readers' hunger for stories that have atmosphere and depth, not bland "atta-girl" bromides.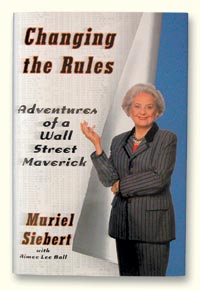 Now we have two new crackerjack autobiographies by businesswomen to take their place by Graham's: Muriel Siebert's Changing the Rules: Adventures of a Wall Street Maverick (written with Aimee Lee Ball, Simon & Schuster Inc., Free Press, 2002) and Mary Wells Lawrence's A Big Life (in Advertising) (Alfred A. Knopf Inc., 2002). Both books are richly detailed memoirs of working lives; personal lives figure hardly at all unless they interrupt life on the job, as was necessarily the case with Lawrence's bouts with cancer. ("Memoir" is too soft and fussy a term to apply, perhaps, to these women's books, especially that of Siebert, who prefers Miss to Ms. but makes no bones about enjoying her toughness.) From page one the reader is immersed in the heady histories of, respectively, Wall Street and Madison Avenue. Neither book is overwhelmingly didactic, although Muriel Siebert's publisher has distractingly decorated the text with the author's trademark plainspoken observations — "Don't get into a pissing contest with a skunk" … "Write down the best thing that could happen and the worst; if you are not willing to accept the worst, don't do it" … "There is no such thing as a lousy morning. You are not owed today" — probably from the fear that an autobiography steeped in financial lore might not find an audience.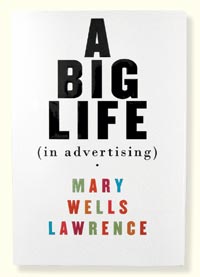 Legendary Ladies
Muriel Siebert — Mickie, as she is known — has a number of significant firsts to her name: the first woman to have a seat on the New York Stock Exchange, the first woman to own a publicly traded national brokerage company, the first woman to be appointed New York State's superintendent of banking. She arrived in New York City in 1954 with $500 in her pocket and headed for the Street because, the year before, on vacation from college, she had visited the stock exchange floor and noted, "Now, this is exciting." On that same trip she was given a piece of souvenir ticker tape that read, "Welcome to the NYSE, Muriel Siebert." As she dryly remarks, looking back on her career, "I wasn't so welcome after all."