• CEOs appointed from outside the company are a high-stakes gamble. Outsiders excel early, delivering returns to shareholders nearly 7 percentage points greater than insiders in the first half of their tenures. In the "second semester," when all CEOs endure a slump, outsiders lag insiders by 5.5 percentage points. Outside hires are also far more likely to be fired than insider appointees.
Shareholders Rule
Booz Allen Hamilton has been studying CEO succession at the world's largest companies to identify patterns in the relationship between chief executive tenure and corporate performance that might be relevant to the way CEOs and boards lead companies. Following the methodology established last year, we identified chief executives at the 2,500 largest publicly traded companies in the world (based on the companies' market capitalization on January 1, 2002) who left their positions in 2002. Using the companies' public statements, as well as our review of press coverage, we determined whether a retirement was voluntary or induced. We used public data sources to help us analyze these executives' entire tenure as CEOs, including personal demographic data (such as age at ascension and departure) and financial performance of their companies. Thus, our study reviews the entire careers of CEOs at the point of their departure. This year, we added a new demographic measure that explored whether departing CEOs were insiders or outsiders at the time of their appointment and compared the performance of the two groups. (See "Methodology," end of article.)
The events of 2002 underscore a conclusion we advanced in last year's study: "Shareholder activism and changes in corporate governance have transformed the CEO's world." From the employee-shareholder displeasure over a failed merger that prompted the early retirement of AOL Time Warner Inc. CEO Gerald Levin, to the ouster of Deutsche Telekom AG chief Ron Sommer by a German government–shareholder unhappy with the company's debt and share price, owners of businesses are increasingly exercising the prerogatives of proprietorship.
In 2002, among the world's 2,500 largest companies, there were 253 succession events — our term for the (usually simultaneous) departure of one chief executive and appointment of another. This CEO "turnover rate" of 10.1 percent, although down from the peak of 11.2 percent in 2000, is up from 9.2 percent in 2001, and dramatically higher than the turnover rate of 6 percent in our benchmark year of 1995.
Although the overall rate of turnover has remained fairly stable during the three-year economic down cycle, regional changes have been striking. North America accounted for 48 percent of all successions worldwide in 2002, significantly less than the 64 percent it accounted for in 2001. In Europe, CEO changes in 2002 increased slightly, to 28 percent of the global total, continuing the steady increase in each of the five years examined since 1995. The biggest change occurred in the Asia/Pacific region, which accounted for nearly one of every five global succession events, compared with 8 percent in 2001 and a mere 6 percent in 2000. Taking a closer look, we find that in Japan, the rate of turnover doubled from 2001 to 2002; in the rest of Asia and Australia, the turnover rate quadrupled.
The variations in turnover rate growth among the regions can be seen more clearly when indexed to the rate of succession in the first year we studied, 1995. (See Exhibit 1.)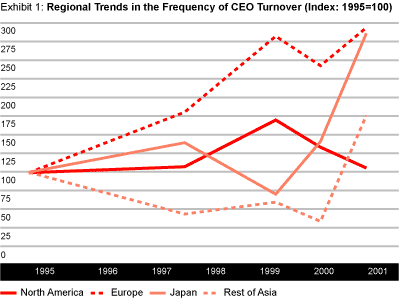 We classify transitions in three categories: merger-driven, in which a CEO's job is eliminated after an acquisition; regular, which includes planned retirements, a CEO's acceptance of a better position elsewhere, health-related departures, or death in office; and performance-related, or forced, which includes any departure initiated by the board, attributed by the media to poor financial or managerial performance, or ascribed to "personal reasons" that cannot be explained except by demonstrable performance shortfalls.