Globally, performance-related successions in 2002 rose by 70 percent over 2001. (See Exhibit 2.) Forced events made up 39 percent of the global total last year; in 2001, they accounted for one-quarter of all successions.

The increase in performance-related turnover is centered in the Asia/Pacific region. The forced turnover rate in Japan — the percentage of the top companies located there that fired their CEO — rose by a factor of 10 from 2001 to 2002. (See Exhibit 3.) In the region outside Japan, the forced turnover rate has more than doubled since 1995. This change is likely due to the region's gradual transition to Western-style governance procedures. Certainly, the trend has been aided by regulatory change; in Japan, the Commercial Code was revised last year to encourage companies to have outsider representation on their boards. But it's also undeniable that Asian companies are becoming more sensitized to shareholder concerns — and to the potential for change. The renaissance at Nissan under the leadership of Carlos Ghosn, for example, has persuaded many Japanese companies that beneficial, rapid, strategy-based transformation is not an impossible dream.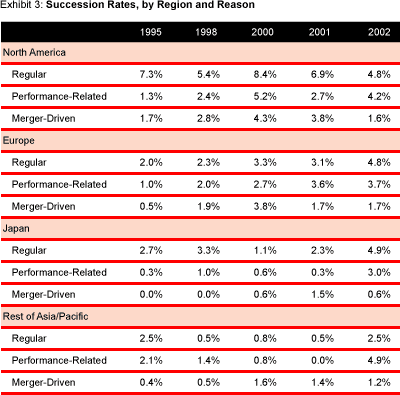 The other big shift in 2002 was the decline in merger-related successions. Mergers drove 15 percent of succession events in 2002, compared with 27 percent in 2001 and 29 percent in 2000. Certainly, poor stock market performance contributed to a decrease in merger and acquisition activity generally; potential acquirers lacked share capital, and possible purchases looked less attractive than they might otherwise have. But the ongoing decline in M&A activity may also reflect a decade or more of consolidation among large companies, resulting in a dearth of appealing targets in certain industries. Either way, company leaders are under pressure to find new ways to cut costs, grow revenues at existing businesses, and find new growth engines.
The decline in mergers and acquisitions helps explain one of the bigger surprises in 2002: the fall in the total turnover rate for North American CEOs. Despite a 3 percentage point drop below the 2001 level, North American turnover, when broken down into its component parts, looks consistent with the past — and with the rest of the world. Exhibit 3 shows that the rate of forced departures did increase — by 1.5 percentage points — over 2001, while both merger-related successions and voluntary turnover hit all-time lows.
It might be difficult to discern a ray of sunlight among the dark clouds that are hovering over company leaders around the world, but there may be some solace in our findings, at least for Europeans who have been buffeted by the unsettling wave of "Anglo-Saxon capitalism." In the U.S., where high performance-driven turnover has been the norm at least since 1998, the total turnover rate has stabilized, the highly publicized departures of some CEOs notwithstanding. Although the European turnover rate has risen rapidly, now that it matches North America's, the pace may slow. On the other hand, criticism of the cozy relationships between management and supervisory boards in Germany, now reaching a crescendo, may translate into stricter codes of conduct there, and it's quite possible that the exacting corporate governance regulations proposed by the European Commission will be implemented across EU member states. If these come to pass, a U.S.-style governance crackdown — and an increase in European turnover rates — may be in store.
The U.S. offers a similar puzzle. The fall in total turnover may herald a return to equilibrium. A decline in merger activity could prompt an increase in performance-related turnover, and vice versa; after all, selling the company and firing the CEO are both possible solutions to the same problem. If this is true, we might expect CEO turnover to remain stable in the U.S. next year. Then again, better corporate governance may well continue to drive more forced turnover, and, when the stock market resumes its upward course, merger-driven turnover will probably increase by 1 to 4 percentage points. If this theory is correct, the U.S. CEO turnover rate in 2003 should be at least 13 percent.