When Performance Matters
Poor performance for shareholders continues to be the driver of forced turnover.
Following the standard established last year, we measured the financial performance of the world's 2,500 largest public companies by total shareholder returns (TSR). The TSR calculation includes both share price appreciation and dividends; since stock market returns can fluctuate considerably and cause anomalies in the assessment of an individual CEO's performance at the point of his or her departure, we normalized CEO performance by subtracting the average shareholder returns in the region during the CEO's tenure from the returns at the CEO's company. Thus, a TSR of 1 percent during a CEO's tenure indicates that the average annual returns in that company were 1 percentage point higher than the returns on an index fund of all publicly traded stocks in the region during the same period.
The most arresting finding is that the "return gap" — the difference in TSR between voluntarily retired and fired CEOs — narrowed globally in 2002, declining to 6.2 percentage points from 13.5 points in 2000 and 11.9 points in 2001, returning to the levels observed in 1995 and 1998. (See Exhibit 4.) With forced dismissals continuing to rise, this suggests that performance is being judged more harshly; CEOs are being shown the door for performance shortfalls that would previously have been tolerated, at least in the recent past.

Shareholder returns has long been the measure by which CEO performance has been judged in the U.S.; increasingly, we are seeing that poor TSR is the primary factor underlying attenuated CEO tenure in Europe. Excepting the anomalous year of 2000, the returns generated by European CEOs who were later dismissed have been improving — yet they still are being found wanting. (See Exhibit 5.) In the Asia/Pacific region, the trend is irregular, and made difficult to interpret in part because of the small size of the data set outside Japan. Through the years we studied, we have found a stronger correlation in Japan between net income growth and forced CEO turnover; dismissed CEOs, on average, generated no growth in income during their tenures, whereas regular retirees grew income by 5.2 percent per year. With the Nikkei index hitting an 18-year low — and with some CEOs delivering respectable returns to shareholders despite the poor state of the Japanese economy — we believe that TSR will increasingly become the measure by which leaders are judged successful in Japan.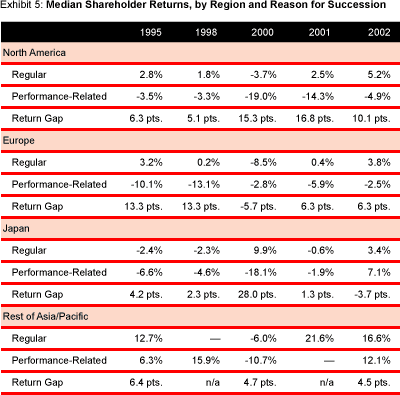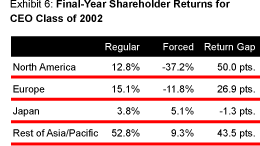 The return gap continues to be greatest during CEOs' final year in office. (See Exhibit 6.) In Europe, dismissed CEOs' final-year TSR was a regionally adjusted -11.8 percent in 2002, 27 percentage points lower than the TSRs of CEOs with regular successions. In North America, the performance gap was even larger: CEOs who were pushed out had generated a median regionally adjusted return 50 points below the final-year median returns of those CEOs who left voluntarily. Similarly, in Asia/Pacific outside Japan, CEOs forced to depart in 2002 had created median returns to investors 44 percentage points lower in their final year than those of their regularly departing peers.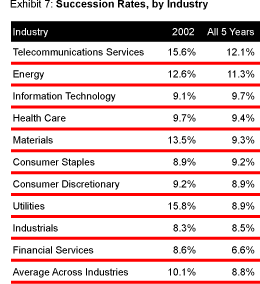 Industry Differences
In comparing CEO tenure in different industries, we find more than meets the eye — and less. Total CEO turnover rates in 2002 ranged from a high of almost 16 percent in utilities and telecommunications services to a low of less than 9 percent in consumer staples, industrials, and financial services. (See Exhibit 7). Yet, when we combine the data across the five years analyzed, we find that in most industries, CEO turnover falls into the narrow range of 8.5 to 9.7 percent per year — in line with the five-year global average of 8.8 percent for the top 2,500 companies across industries.