Against this backdrop, two industries with high turnover in the five years studied stand out: telecommunications services (12.1 percent) and energy (11.3 percent). More remarkable is the low turnover in financial services: only 6.6 percent per year. Indeed, financial services had the lowest CEO turnover in four of the previous years we studied and the second lowest turnover in 2002. Although profits buoyed by the bull market might provide an explanation for low turnover in 1998 and 2000, turnover among financial-services CEOs remained low in 2001 and 2002, despite declining performance.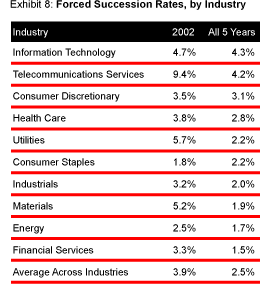 When total succession is divided into its component parts, one conclusion becomes clear: High-tech equals high-risk. Across the five years we analyzed, information technology and telecommunications services experienced the highest levels of forced turnover. During 2002, CEO dismissals in the telecommunications industry were an astonishing 9.4 percent, triple the rate of 2001. Recession-proof consumer staples saw the lowest involuntary turnover rate, only 1.8 percent. (See Exhibit 8.)
In some industries, there is a strikingly small correlation between total turnover and forced turnover. For example, despite low forced turnover, energy has one of the highest rates of total turnover because of the industry's level of merger activity. In contrast, in the consumer discretionary sector, where few large firms disappear because of mergers, forced turnover is high, while total turnover is low. Exhibit 9 shows these industry variations, and includes a "CEO Safety Index" — the proportion of CEO turnover in an industry divided by the proportion of succession events at the top 2,500 companies in each year globally — that identifies the relative security of chief executives in different sectors.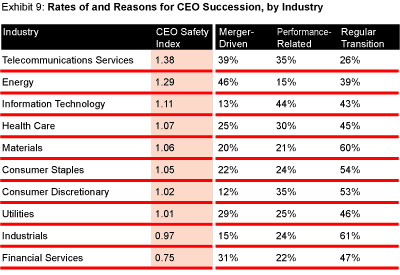 Outsiders and Insiders
Selection of a CEO from outside the company always triggers spirited disagreement. Some laud the outside "change agent" who can shake up an organization — as Louis Gerstner did at IBM or Rolf Eckrodt has done at Mitsubishi Motors. Others criticize the outsized pay packages granted and huge promises attached to gunslingers brought in from out of town, such as Gary Wendt at Conseco Inc.
We decided to test the relative performance — and explore the survival rates — of insiders and outsiders. We define "outsider" very narrowly, as someone hired from outside the company into the position of CEO. Executives hired from elsewhere and groomed for a time before becoming CEO are defined as "insiders," as is anyone who served previously in a senior executive position in the company or on the board.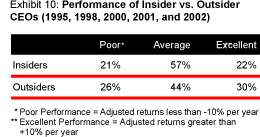 It turns out that both proponents and critics of outsider hires are right: Outsider CEOs disproportionately produce both excellent results — and poor results. Exhibit 10 compares the shareholder returns generated by insider and outsider CEOs, relative to average performance in their regions. Insiders tend to produce average results, while the results of outsiders are more extreme.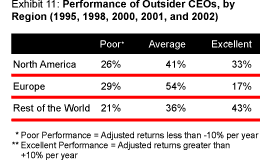 Part of the reason for the variance is a systematic difference in outsiders' performance across regions. In Europe, outsiders do especially badly, and comparatively few perform excellently. Everywhere else, outsiders have a much better chance of generating excellent results. (See Exhibit 11.)
But the central difference between outsiders and insiders is one of timing. Outsiders perform much better than insiders in the first half of their tenures and much worse in the second half. (See Exhibit 12.)

It's important to note that the "second-half slump" is a significant challenge confronting all chief executives. When we pool all of our data from North America and Europe, we see that the average CEO generated returns nearly 6 percentage points higher per year in the first half of his or her tenure than in the second half. Our hypothesis is that the cause of the decline is that most new CEOs launch an effective change program that restructures the company, targets new growth opportunities, improves financial results, and creates a year or two of above-average returns. But sustaining that higher level of performance will yield average returns at best, and, in the face of competitors' responses, usually will result in below-average returns.