For outsiders, the second-half slump is much more acute. There are at least four possible explanations:
Outsiders are given more latitude by boards to take rapid writedowns, allowing companies to show an early appearance of financial success.
Through a burst of acquisition activity, outsiders generate rapid results that cannot be sustained.
Outsiders lose momentum because they do not plan to stay in their positions as long as insiders do.
Most outsiders actually do shake up the organization, initially creating beneficial change, but face a greater burden than insiders in sustaining the results because of the absence of internal support networks.
Whatever the explanation, the second-half slump takes a more profound toll on outsiders than insiders. Outsiders face a much greater — and an increasing — probability of being fired. (See Exhibit 13.)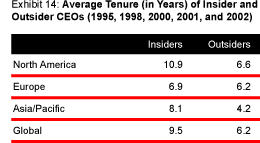 The risk outsiders face is also evident in the length of their tenure. Globally, their service as CEO lasts some three years less than that of insiders. When broken out, Europe seems to be different: Insiders and outsiders average about the same tenure. (See Exhibit 14.)
The portrait of CEO tenure drawn from this data appears to be that outsiders come on extremely strong, are unable to uphold their early promise, and are more likely to generate disaffection among shareholders and dismissals by boards. In other words, the choice of an outsider is a high-risk gamble. Although, on average, the likeliest scenario is that shareholders will be no better off with an insider than with an outsider, outside appointees definitely do generate better returns in the earlier portion of their tenure. But there is also a greater-than-average chance the outsider will be asked to resign early — putting the company through additional, and probably unnecessary, rounds of turmoil.
This picture clarifies a challenge to boards. In appointing an outsider, directors must take pains to help the CEO sustain his or her performance, primarily by helping the leader build support and knowledge networks and create enhanced capabilities throughout the organization. For outsider CEOs — indeed, for all chief executives — it's imperative to maintain public trust among internal and external constituencies by striking a clear balance between promise and delivery.
In the current environment, that means CEOs must emphasize executional discipline over, or at least in tandem with, visionary boldness. But when growth and its inescapable companion, euphoria, return, leaders will have to strive to set and manage rational expectations among their audiences, or face the ire that clearly attends unmet potential. Although performance matters, our data shows that matching (and ideally exceeding) market norms in a region over the longer term secures a better future than engaging in numbers games with financial analysts and the business media. That argues in favor of company leaders' holding themselves to a standard, such as top-quartile TSR for an industry, rather than specific earnings targets. It also requires leaders to consistently explain these benchmarks and their performance against them in order to establish a context for their stewardship and an ongoing rationale for the company's strategy.
Grecian Formula
There was another twist on the insider versus outsider phenomenon in 2002, at least anecdotally: "the return of the Jedi."
With boards showing a preference for gray hair and long experience over the New Economy emphasis on youthful vision, veteran CEOs came back, on an interim or full-appointment basis, to Bertelsmann and Deutsche Telekom in Germany. The apparent trend continued into 2003 with, for example, former CBS CEO Michael H. Jordan taking the helm at the Electronic Data Systems Corporation when the technology consulting firm's board dismissed chief executive Richard Brown (himself a former CEO) after four years on the job.