Appearances can be deceiving, however: Our research indicates that hiring former CEOs is yesterday's fashion; the trend has become less pronounced over time. Using the year's "graduating class" as a proxy, we found that in 1998 virtually all outsider CEOs had been a top dog before. In 2002, only half of outsiders had previously served in a chief executive role. When we compared the performance of multiple-service CEOs with first-time leaders, we found out why: Serial CEOs underperform first-timers — both other outsiders and insiders.
Previous experience notwithstanding, our data does show that CEOs grew a bit grayer last year. The mean age of chief executives leaving office in 2002 was 58.1, up slightly from 2000 (56.8) and 2001 (57.1), although still lower than 1995, when departing CEOs were, on average, nearly 62 years old. (See Exhibit 15.) Outgoing European CEOs are an average of two years younger than their American counterparts. And Asian CEOs, although the elder statesmen of the group at 61.1 years on departure, have grown younger, due almost entirely to the increase in forced successions in 2002.

There has been little change in the age at which chief executives start their CEO careers. The departing class of 2002 had a mean start-of-tenure age of 49.4, close to the global average for the five years (49.9). As we observed last year, Asian CEOs are older upon ascension than their European and North American counterparts. But there was a dramatic decline in the age of appointment for the 2002 graduating class in Asia/Pacific; its mean age, 52.4, was down eight years from 2001, and was the lowest of all the years we studied.
The mean length of tenure for the departing CEO class of 2002, 8.6 years, was higher than we've seen in several years. Regionally, North American CEOs enjoyed the longest tenures (10.3 years), followed by Asia/Pacific (8.7) and Europe (6.6). Even CEOs who were forced from office in 2002 experienced longer tenures than those who were forced out in 2000 and 2001. The average tenure for North American CEOs forced from office in 2002 was 7.9 years, the longest since 1995; in Europe, the mean tenure length for such CEOs was 5.4 years, the longest of all the years we have studied. Asia/Pacific was the outlier again: CEOs removed from their jobs had the shortest tenures of any — 3.9 years. (See Exhibit 16.)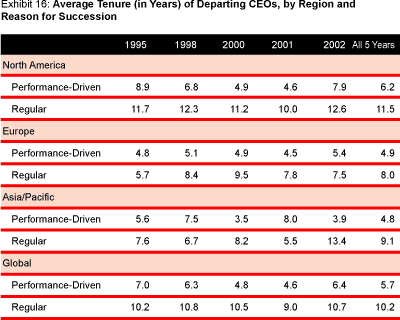 The Improvement Imperative
The slight increase in CEO tenure and age should not mask the trend we have seen advancing since the mid-1990s. The professional life of a large company's chief executive increasingly resembles that of the Hobbesian man: It is nasty, brutish, and short.
The volatility in the chief executive's career is a natural outcome of a two-decade trend toward the "celebritizing" of individual CEOs, certainly in the U.S. and Europe. Because it is easier to attribute causality to individuals than to institutional, cultural, or economic forces, the business media in the United States, followed by securities analysts and shareholders, created cults of personality around chief executives. During the bull market of the 1980s and 1990s, it became easier for the finance industry, boards, and even CEOs themselves around the world to adopt this heroic view of leadership. Jean-Marie Messier, whose $50 billion, acquisition-fueled campaign transformed the French water company Compagnie Générale des Eaux into the media company Vivendi Universal, even authored a book titled J6M.com; the title stood for "Jean-Marie Messier, Moi-Même, Maître du Monde," or "Me, Myself, Master of the Universe." Once the market turned, it was easy for heroes to fall from grace. Mr. Messier, for example, was dismissed by Vivendi's board in the summer of 2002, after seven years at the helm.