We have analyzed the cost gap between large full-service airlines and low-cost carriers (LCCs) on both sides of the Atlantic, and the similarities are striking. On both continents, cost differences exist across the board: pilots, onboard services, sales and reservations, maintenance, aircraft ownership, ground handling. The low-cost carriers are not simply paying lower salaries or using cheaper airports, they are leveraging all resources much more effectively. In fact, the cost differential between the full-service and low-cost carriers is 2 to 1 for the same stage length and aircraft, even after adjustments for differences in pay scales, fuel prices, and seat density are made.
Surprisingly, only about 5 percent of this cost differential can be attributed to the extra amenities the hub-and-spoke carriers offer. Some 65 percent of the LCCs' cost advantage is the result of other production-model choices; another 15 percent comes from work rules and labor agreements; and 12 percent can be attributed to differences in balance-sheet structure and financial arrangements. (See Exhibit 2.)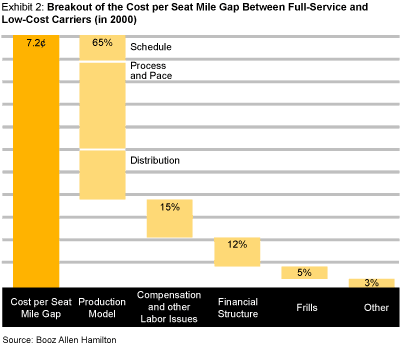 Of the costs attributable to production-model differences, the largest contributing factors are business pace, process complexity, and ticket distribution. In fact, "no frills" and "full service" are misleading labels to describe the distinction between the two types of carriers. It is the relative simplicity or complexity of their operations that truly distinguishes them.
Most debilitating for the major carriers is the inability to overcome their cost burden with boom period pricing, as they did in the second half of the 1990s. As corporations tightened their belts and reduced the frequency of travel, business travelers, who have traditionally accounted for as much as 60 percent of mainline airline revenues — and well over 100 percent of their profits — were no longer willing to pay the high fares they tolerated in the dot-com boom. Weakened by this fundamental change in customer choice as well as "industry leading" labor agreements and rising fuel prices, the U.S. hub-and-spoke airlines' cost per seat mile (CASM) rose above revenue per seat mile (RASM) by the third quarter 2000, a full year before the September 11 terrorist attack slashed air travel further. This eventually increased to an unprecedented cost-to-revenue gap of close to 2 cents per seat mile at the beginning of 2002 in the U.S.
That revenue outlook is likely to get worse. By our conservative estimates, low-cost carriers could potentially — and successfully — participate in more than 70 percent of the U.S. domestic market. Southwest Airlines typically prices 50 percent lower than large carriers in one- to two-hour nonstop markets. Even though traditional airlines have attracted a richer business mix than the low-cost carriers, they still stand to lose 25 to 35 percent price realization in those markets.
Recently, hub-and-spoke airlines have been trying to lower operating costs through new, less onerous labor agreements — American Airlines, United Air Lines, and US Airways have led the way in eking out pay concessions from their employees; negotiating better deals with intermediaries and financiers; eliminating discretionary costs; and, in some cases, smoothing out hub operations. Major carriers in the U.S. and Europe have also announced that they will add low-cost airline subsidiaries to their business portfolios to compete with the likes of Ryanair and Southwest Airlines.
A New Path
Many of these restructuring initiatives are clearly valuable and necessary, but they will likely not prove to be enough. Core airline operations need to become competitive with those of low-cost carriers, especially as LCC market penetration grows in the U.S. and makes inroads in Europe. The steps large carriers have taken so far do not address the fundamental productivity differences between themselves and the low-cost airlines. Traditional airlines will not achieve a competitive cost structure if they do not tackle the fundamental cost penalties associated with their business models. But they must do so without compromising the services, service quality, and coverage that distinguish them from their new rivals.