George doesn't just spout pieties; he gives concrete examples of what such virtuous leadership entails: focusing on the long term, developing the overall leadership capacity of an organization, providing balance between work and family life, and creating a system of exemplary governance. Some of George's own leadership practices were counterintuitive, even courageous — as when he bucked the politically correct "when in Rome, do as the Romans do" trend in global business. Rejecting such cultural relativism, he cogently explains why he established a single worldwide standard of ethics for all of Medtronic's far-flung operations. Most important, George practiced what he preached. Hands down, this was the year's best book written by a business leader, and is our choice for the best book in this category.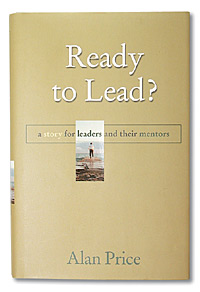 Alan Price's Ready to Lead? A Story for Leaders and Their Mentors (Jossey-Bass, 2004) is a fictional account that aims at encouraging would-be leaders to follow a path similar to the one Bill George blazed at Medtronic. It is the story of a rising young executive (Mark) who, during his annual appraisal, is asked by his mentor (Patricia) to take on a special assignment. Before he agrees, she asks him, "Are you ready to lead?"
Although somewhat contrived, the book follows Mark on assignment over the next few months as he tries to help the managers of a subsidiary whose business is in trouble. Mark comes on strong with his initial diagnosis: The ship is sinking because nobody thinks the situation is serious, and everyone points to external factors as the cause of their problems. Worse, Mark tells them there is a woeful lack of accountability in which no one is willing to say what they will do, or do what they say.
After Mark ineffectively fumbles around trying to get people in the subsidiary to change, mentor Patricia teaches him that he, too, must become a mentor in order to lead. She teaches him that effective mentors/leaders create challenges that take people out of their comfort zone, while also creating safety nets so that they will be willing to try new things. Mark then proposes a new definition of leadership, which is "the unleashing of human passion toward a goal; while management is the organizing of skills and resources toward a goal." While agreeing, Patricia proposes that leadership comes down to building "a community of purpose," a conclusion shared by Medtronic's George.
Stumble and Fall
Why CEOs Fail: The 11 Behaviors That Can Derail Your Climb to the Top — and How to Manage Them (Jossey-Bass, 2003), a leadership primer by executive coaches David L. Dotlich and Peter C. Cairo, starts with the premise that CEO failures are certainly costly in terms of money, but even more so in terms of negative publicity for companies, the undermining of competitive edge, and the driving away of good employees. They point out that many of history's best-known CEO failures were considered strong leaders before they made sudden and fatal blunders: One year you're a Fortune most admired executive, the next you're Ken Lay! The authors argue that when executives act in illogical, idiosyncratic, or irrational ways, their behavior is not due to a momentary loss of judgment or insufficient brainpower. In fact, most of those who have crashed and burned had previously demonstrated the intellect, skills, and experience to lead their companies through the challenges they later encountered — but, for some reason, their mojo failed them.
Drawing on Daniel Goleman's work on emotional intelligence, Dotlich and Cairo conclude that the reason leaders fail has more to do with who they are than with what they know. Leaders are vulnerable to identifiable "derailers," that is, deeply ingrained personality traits that unconsciously affect their decisions and actions. Paradoxically, these derailers often are excesses of a leader's greatest strengths. For example, a brilliant analyst may become frozen when under stress because his hardwired penchant for running the numbers is inappropriate for meeting a particular problem at hand — for instance, a sensitive personnel decision. The good news, the authors claim, is that such problems can be prevented if a leader recognizes the telltale signs of derailment, and then learns to act appropriately.