The start of the 21st century was not a good time for chief executives. In less than a year, from 2001 to 2002, more than a quarter of the largest American corporations experienced downturns in current or projected revenues, which prompted their stock prices to drop from the $50 range to $1 or less. In the last quarter of 2001, Enron, until then America's fifth-largest corporation, lost 99 percent of its value. All too often, managers tried to stave off disaster with misleading or even fraudulent financial reports.
Small wonder that CEOs came to rank in public opinion only a notch above used-car salesmen. Many CEOs are now more self-conscious about the public's distrust of them. The vogue of the 1990s, the hero-boss, has given way to a fashion of chief executive officers who exhibit humility and straight dealing.
But how to ensure that there are no more Enrons, WorldComs, or Tycos? In the past year or so, several books have appeared with advice to offer, from people with a broad range of experience. They agree, for the most part, that the responsibility for corporate rectitude rests with boards of directors. And collectively, they suggest that the conduct of corporations depends, ultimately, more on character and teamwork than on regulation and legislation. But each offers a different viewpoint on the most contentious question in the current U.S. debate on boardroom governance: Whether the role of chairman and CEO must be split between two individuals.
Two of the books are by people who have run sizable businesses, one on either side of the Atlantic. Bill George, the former CEO of Medtronic Inc., having made a success of this big medical technology company (and acquired the splendidly titled role of Executive in Residence at Yale University), has written Authentic Leadership: Rediscovering the Secrets to Creating Lasting Value (Jossey-Bass, 2003). Sir Adrian Cadbury, author of Corporate Governance and Chairmanship: A Personal View (Oxford University Press, 2002), also made a success of his time at the family confectionery firm. One of his retirement jobs was chairing a committee on corporate governance whose code of best practices, published in 1992, has been the basis for corporate governance reforms in Britain over the past decade.
Two other books are by specialists in corporate governance who have spent their careers moving in and out of boardrooms as advisors or as independent directors. Back to the Drawing Board: Designing Corporate Boards for a Complex World (Harvard Business School Press, 2004) -- s+b's choice for the best book in this category -- is by Colin B. Carter, a management consultant, and Jay W. Lorsch, a professor at Harvard Business School; The Recurrent Crisis in Corporate Governance (Palgrave Macmillan, 2004) is by Paul W. MacAvoy, a professor at the Yale School of Management, and Ira M. Millstein, a corporate lawyer.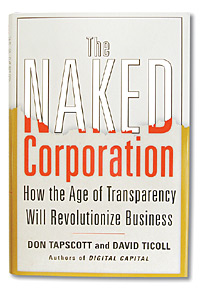 Is "Buff" Enough?
The fifth book in this selection approaches governance from a different angle. In The Naked Corporation: How the Age of Transparency Will Revolutionize Business (Free Press, 2003), Canadian consultants Don Tapscott and David Ticoll attempt to unravel the impacts of information technology on society, the economy, and business. Their starting point is that "the crisis of 2002 was a crisis of disclosure and transparency" -- the worst on Wall Street since the crash of 1929. Their antidote: lots more transparency. "If you're going to be naked," they counsel, in a sentence that clearly delighted their publishers, "you'd better be buff!"
To describe the collapse of the dot-com bubble as a crisis of disclosure seems rather odd. True, there was dishonesty in some big companies (but in only a small minority: not at GE, say, or GM or Procter & Gamble or a host of other household names). And true, many investment bankers hyped shares of e-companies excessively, persuading the gullible and greedy that pewter was silver and brass was gold. But the stampede into dot-com shares was the sort of mass mania that happens once every two or three generations, with tulips or railways or radio, and would probably have occurred even if every dot-com company had been "buff."