In recent years, both the breadth of change and the pace of change in business have accelerated to such an extent that change presents personal and professional challenges to people at all levels of responsibility in organizations. In our own work as consultants in change management, we always start at the top of an organization and talk about how the leadership team needs to "model the change." But the act of modeling change can be superficial -- and thus ineffective -- in achieving transformational change if leaders don't recognize that they are asking for deep changes in attitudes and behaviors not only from their employees, but also from themselves.
This year, three very different books expand our understanding of change management techniques, especially those appropriate to large companies. They also explain why some change management initiatives succeed while so many others do not. Collectively, these books address three conditions that must exist for successful change to occur:
Leaders must change themselves before they can be effective at leading change by example.

For change to cascade down through the organization, groups and individuals within the organization whose behaviors already embody the desired state must be engaged in the change process.

People at the top of the organization need to tell a story that resonates throughout the organization and explains why change is necessary and what the role of every employee will be.
Only when these three elements fall into place can middle managers and frontline employees begin to adopt the desired behaviors and bring the change to life.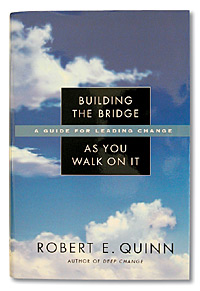 States of Leadership
In Building the Bridge as You Walk on It: A Guide for Leading Change (Jossey-Bass, 2004), Robert E. Quinn expands on the argument made in his previous book, Deep Change: Discovering the Leader Within (Jossey-Bass, 1996), that significant organizational change doesn't happen unless the leader genuinely lives the changes he or she is advocating.
Quinn, a professor at the University of Michigan Business School, describes two "states of leadership" that illuminate why so many leaders struggle with change. In what he calls the "normal state of leadership" -- a state in which most people operate most of the time -- it is very difficult to achieve change because the leader is too self-focused and comfort-centered. Individuals in this state mostly consider what is right for them personally, and they have difficulty seeing the larger picture of what is right for the organization. The preferred state for leading change is what Quinn calls "the fundamental state of leadership." In this state, individuals are internally directed by a strong sense of right and wrong, and are also externally aware of the larger issues faced by the organization.
In Building the Bridge as You Walk on It, Quinn identifies eight practices for achieving the personal transformation that takes an individual from a "normal" to a "fundamental" state of leadership. These are: reflective action, authentic engagement, appreciative inquiry, grounded vision, adaptive confidence, detached interdependence, responsible freedom, and tough love.
The eight practices examined in Building the Bridge as You Walk on It are, on one level, exercises to help leaders maintain their integrity under situations of great duress. On another level, they're avenues to help leaders engage individuals in reflecting on their own experiences with change and in adopting new behaviors.
Each practice is explained at length, and with personal stories. "Authentic engagement," for example, is the ability to align intentions and motives with actions. If leaders advocate change for the broader good of the company but are not fully committed to seeing it through, the contradiction will be apparent to others. Quinn believes that authentic engagement requires leaders to make a fundamental choice to live by principle, even when faced with pain and sacrifice.