Inform and Empower
"Management writes the board agenda. We tend to look only where they shine the light," complained one director we surveyed. It's true. Most of the information reviewed by boards of directors is provided by management, generally a week to 10 days before the board meets. It is too little, too late.
A steady supply of credible and comprehensive information is the foundation of an effective board's power to govern competently. To gauge the adequacy of a board's information sources, Paul Lapides, director of the Corporate Governance Center at Kennesaw State University in Kennesaw, Ga., suggests directors ask themselves, "Can we have a conversation about this company without someone from management being there?"
The frequency, format, sources, channels, and content of that information all influence whether directors develop the knowledge needed to do their jobs. Edward Lawler III, professor of management at the University of Southern California and coauthor of Corporate Boards: New Strategies for Adding Value at the Top (Jossey-Bass, 2001), argues that this knowledge base should encompass more than financial results. "Simply looking at accounting data is inadequate," he says. "Directors need to develop a better mix of indicators of how the corporation is performing."
Professor Lawler suggests nonfinancial as well as financial indicators, leading indicators and lagging indicators, and indicators that include customer and employee satisfaction, quality, cycle times, and so forth. According to his research, companies that provide their boards a range of indicators enjoy significantly greater stock and investment returns than firms that do not.
The ideal model for information provision is a "push and pull" approach, in which companies provide directors with regular, standardized briefing books of summarized information that is timely, comprehensive, and presented in order of importance, but directors are also able to request — and receive with reasonable speed — any other information they want. (By providing board members with executives' home telephone numbers, Pfizer exemplifies this best practice.) Directors should also take it upon themselves to obtain the information they need to help govern the company. In the course of our client work, we've come up with a list of questions we've dubbed the "Diligent Dozen." These are the questions that every director should be able to answer — with a "yes," in the case of the first nine, and with a reasonably comprehensive explanation in the case of the latter three. (See Exhibit 1.)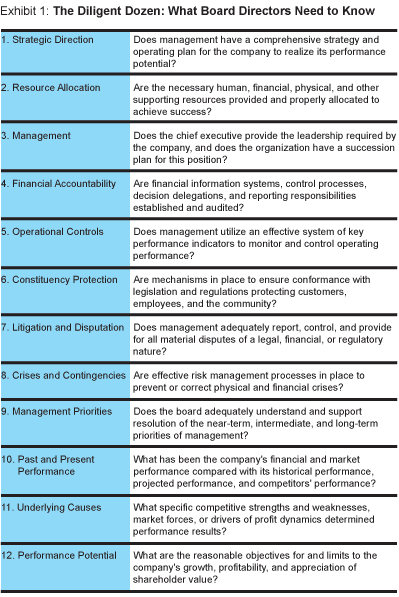 The presentation of information is also critical, and an area in which directors we interviewed identified significant room for improvement. James Baker, the retired chairman of Arvin Industries, advocates the use of "consent agendas." CEOs should group routine topics — check-signing authority, lease renewals, small-time option grants, review of on-par operations — at the end of the agenda for collective approval. That lets directors focus on higher-priority matters. When Mr. Baker was chairman of Arvin, he got the directors to agree that they wouldn't even talk about routine manufacturing operations at meetings unless something unusual came up.
Boards can and should take charge of their information needs. When Mark Leslie, former CEO of the Veritas Software Corporation and a director of Avaya Inc., became Avaya's audit committee chair in 2002, he called a meeting of the four-person committee right away and posed the question, "How can we do our job better?"
He began by narrowing the focus of the committee from audit and finance to just audit. Then he and the other committee members revamped the format of the management letter from the external auditing firm to make the review process more efficient. Now each report comes with a color-coded cover page that rates pending issues as red, yellow, or green, denoting no progress, slowing progress, or adequate progress. The format helps the committee ignore the green issues and focus attention on the more pressing red and yellow ones.