The presentation appeared to be going very well. As the process redesign team unveiled the new set of revenue-accounting processes to its peers and to the first-level accountants, the discussion in the room had been surprisingly positive--everyone seemed to agree that the old combination of patchwork processes and ancient technology was badly in need of repair. The questions centered more on the "how" of the new processes than the "why," and the team was already looking ahead to its next presentation.
But near the end of the meeting, a staff accountant raised his hand. He held up a floppy diskette and said, "I have two spreadsheets on here that I update and distribute twice a month. You haven't told me what I'm supposed to do with these analyses, so I can't really accept any of your recommendations."
The presenter suffered an immediate loss of credibility, and the meeting ended with an admonition to the redesign team to "Go back and get it right."
We have all struggled with major change initiatives such as business process redesign and the implementation of new information technology. What can we learn from this example?
Most senior managers forget a critical principle of change management: Organizations don't change; people do. We tend to think of our change initiatives in broad terms--"We are redesigning the revenue accounting process." Our employees think of it differently--"Do I keep creating this spreadsheet or not?" To implement sustained change, we must translate our initiatives to implications for each individual who will be affected. This is a key reason why change programs always take longer than we think they will.
And when we speak of individual change, the discussion must turn to resistance. In this article, we want to share lessons learned about resistance from organizations that consistently deliver their major change projects on time, within budget and with full capture of the benefits they had forecast.
Lesson #1--Resistance is inevitable. Many managers naïvely assume that if people like a change or think it is a good idea, they will not resist it. Significant change is a disruption in our expectations about the future. This disruption causes a loss of control, and we will resist this loss of control--even if we think the change is a sound one.
Lesson #2--People will express resistance differently based on how they perceive the change. The distinction is whether or not they like the change. Figure I shows the positive case--the way people resist when they view the change as a good idea. Marriage is a good example to illustrate this point.
FIGURE I
MANAGING POSITIVE RESPONSES TO CHANGE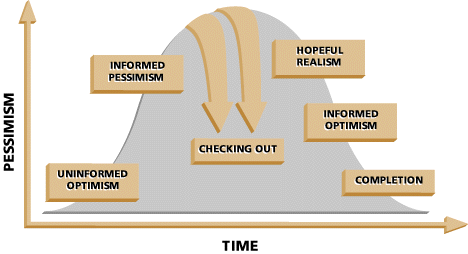 At the beginning, we start with "uninformed optimism." This is the honeymoon period of the marriage--a naïve enthusiasm based on insufficient data. We then move to "informed pessimism," as the couple discover the real price of their change decision. He learns how often she wants to eat out; she learns how often he wants to play golf. They start to realize that while the overall decision may have been a good one, there are significant costs that they did not expect.
At this point, there is a danger of "checking out," represented by the two downward arrows. Public checking out may be, "I want a divorce," while private checking out reflects a superficial calm covering undiscussed conflict and resentment.
If we can manage past this phase, we can reach "hopeful realism"--a view of the light at the end of the tunnel based on a true understanding of both the costs and the benefits of the change. This gives way to "informed optimism"--a sense that the change is achievable and that a great deal has been accomplished already. Finally, the change can be viewed as completed.