Exhibit III
Comparing Transaction Costs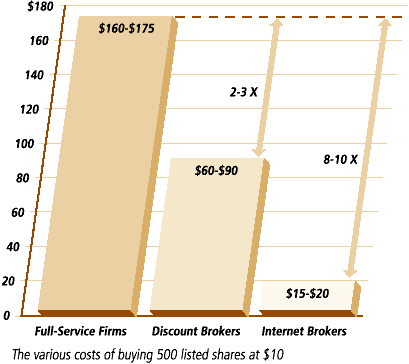 Source: Booz-Allen & Hamilton analysis
Further increasing their allure to the more sophisticated investor, specialized providers have aggressively expanded the use of technology for distribution of, and access to, their products and services. Phone-based services and on-line trading, for example, have been utilized most effectively by these providers to gain market share among active, savvy customers.
Investors who are less self-directed and more concerned with developing and executing an in-depth financial plan are more likely to realize value from a full-service provider. The costs of preparing a financial plan and obtaining asset allocation and investment selection advice on an "unbundled" basis quickly level the playing field between specialized and full-service providers if the customer invests largely in "load" mutual funds. (See Exhibit IV.) However, if that planning-based investor is oriented toward the purchase of individual stocks, the cost gap between specialized and full-service providers begins to reappear in the value equation. Even more ominous for full-service firms is the growth of the cost gap if the planning-oriented investor uses no-load mutual funds. (See Exhibit V.)
Exhibit IV
A Level Playing Field

Source: Booz-Allen & Hamilton analysis
Exhibit V
The Cost Gap by Investor Type for $350,000 Portfolio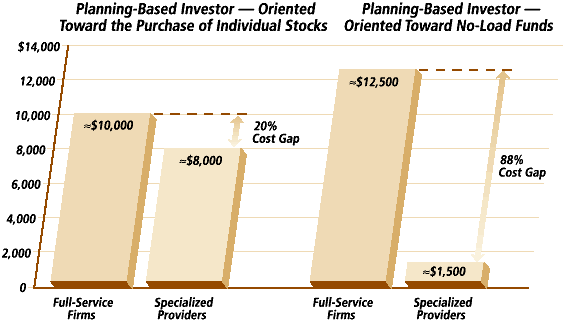 Source: Booz-Allen & Hamilton analysis
How Full-Service Firms Have Responded
The response of full-service firms to the rise of specialized providers has been reactive at best.
Many of these firms have broadened their product offerings by providing financial planning that addresses a totality of needs, including credit, risk management and wealth transfer. They are also working to close the technology-based access and price/value gaps so apparent to today's most active brokerage consumers.
While the broker-client relationship continues to be the focus of the full-service firms' customer interface, several firms now offer on-line account access (but not trading) and expanded automatic-response phone information systems. In addition, the most aggressive full-service firms are responding to the proliferation and popularity of no-load funds by incorporating these fund families into their product offerings.
Specialized Providers Integrate Services
But using technology more effectively and neutralizing the no-load competition are only part of the challenge facing full-service providers. A more significant threat is the increasing ability of specialized providers to seamlessly integrate their offerings, enhancing their appeal to traditional full-service customers. (See Exhibit VI.) Providers of financial software, like Intuit, could potentially expand their capabilities to include portfolio planning and execution services, thereby combining profiling and asset-allocation capabilities with discounted transaction execution.
Exhibit VI
Potential Threat to Full-Service Firms from Specialized Providers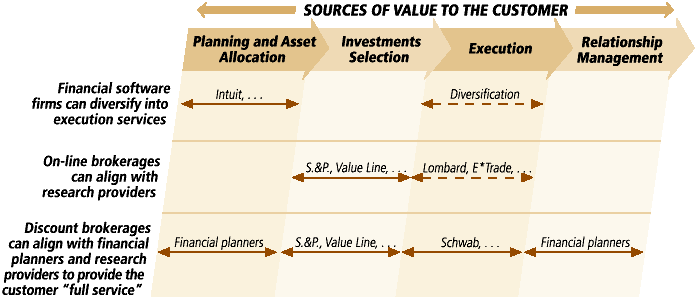 Sources: S.I.A. Factbook and Booz-Allen & Hamilton analysis
Alliances among specialized providers could further blur competitive distinctions. On-line brokerages could team with research providers to offer investment selection advice along with capabilities for discounted transaction execution. And the discounters could offer full-service value by aligning with both research providers and financial planners while still retaining the ability to offer transaction execution.
As the needs and delivery preferences of the specialized providers' customer bases change (because of aging and life-stage transitions, as well as shifting attitudes toward remote access), these enhanced value-added elements will prevent the migration of accounts to the full-service firms. Charles Schwab & Company and Fidelity Investments have been especially active in this area, and other providers can only be expected to follow suit.
Competing in This Brave New World -- A New Approach
Whether through unbundling services or combining services cost-effectively, specialized firms are poised to continue to gain significant market share.
The challenge for full-service brokerages will be to identify customer segments best suited to their strengths, and focus on understanding the needs, goals and delivery preferences of these groups. Developing and marketing their ability to help customers meet their goals with a suite of products and services will cement their relationships over the long term and will be the hallmark of successful firms in the future.