Exhibit I
The Stars in the Constellation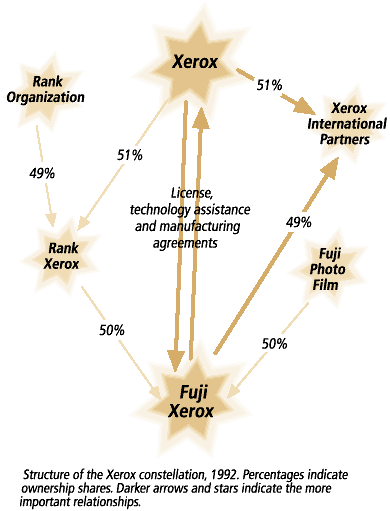 Source: Gomes-Casseres, "The Alliance Revolution"
Fuji Xerox was destined to become much more than a marketing outlet for Xerox products -- it helped save Xerox from the demise that Mr. Kearns had feared. No one could have predicted this outcome. For a long time, Xerox executives treated Fuji Xerox with a benign neglect that sometimes bordered on condescension. This attitude changed dramatically in the 1980's, as Fuji Xerox came to the rescue of Xerox with a series of startling product breakthroughs and no-less-startling management, manufacturing and technology lessons. By 1990, Fuji Xerox had become "a critical asset of Xerox," as Xerox C.E.O. Paul A. Allaire called it.
The Separate Interests of Xerox and Fuji Xerox
The reasons behind the transformation of Fuji Xerox lay in that company's unique relationship with Xerox. By the early 1970's, Fuji Photo and Rank Xerox had each become passive partners in Fuji Xerox. Although they still held nominal decision-making powers, they were not involved in day-to-day activities and they did not continue to supply technology and expertise to the joint venture.(6) For technology and business advice, as well as for certain products, Fuji Xerox turned directly to Xerox.
Xerox did not control Fuji Xerox, however, and was only entitled to a minority share of the profits generated by the joint venture. As a result, Fuji Xerox benefited from a flow of technology from Xerox, but also enjoyed an exceptional degree of autonomy. Yotaro (Tony) Kobayashi, Fuji Xerox's president and chief executive from the late 1970's to the early 90's and now its chairman, ascribed a good deal of the company's success to this autonomy. "The degree to which Xerox let us run was very unusual," he recalled.
The autonomy of Fuji Xerox also stemmed from sheer neglect. To many in Xerox, Fuji Xerox seemed a faraway outpost in a tiny market. Furthermore, it had no technical capabilities to speak of, particularly when compared with Kodak and the International Business Machines Corporation, the two giants breathing down Xerox's neck. When Fuji Xerox engineers proposed to develop an indigenous line of copiers tailored to local Japanese conditions, therefore, Xerox executives first tried to dissuade them and then turned a blind eye when they went ahead anyway.
The Rise of Fuji Xerox
The Japanese engineers had always aimed to develop an indigenous expertise in xerography. In the early 1960's, Fuji Photo engineers began modifying Xerox designs to the needs of the local market; Japanese offices, for example, used different paper sizes. Later, Fuji Xerox managers wanted to go beyond adaptation to developing their own products. In particular, they envisioned a high-performance, inexpensive, compact machine that could copy books.
By the late 60's, the Fuji Xerox development group had produced four experimental copiers, each with projected manufacturing costs approximately half those of the smallest Xerox machine. When engineers at Rank Xerox and Xerox first heard of these machines, they doubted their commercial viability. But developers at Fuji Xerox persisted, and in 1970 they took a working prototype to London, where its performance amazed Rank Xerox executives. The machine was slow (5 copies per minute, or c.p.m.), but substantially smaller and lighter than comparable Xerox models. This demonstration boosted the technical reputation of Fuji Xerox. For the first time, Xerox allowed Fuji Xerox to have a small R.&D. budget. In 1973, Fuji Xerox introduced the FX2200, the world's smallest copier, with the slogan, "It's small, but it's a Xerox!"
Fuji Xerox's product development efforts went into high gear in 1975, when the company launched its Total Quality Control program. The focal point of the campaign was the development of dantotsu, roughly translated as the "Absolute No. 1 Product." Top management gave the marketing and engineering departments a seemingly impossible task: develop a compact, 40 c.p.m. machine, to be manufactured at half the cost of comparable machines and with half the number of parts of previous models, and do it in two years, instead of Xerox's typical four.