CEMEX: An Emerging Market Multinational
The most profitable global company in the cement industry expanded from Mexico by building world-class capabilities.
When a company moves from a national to a global role, success is not guaranteed. Many companies expand into areas where they are unlikely to thrive, because they lack the capabilities needed in their new locales and because the parameters of their home country constrain them. One company from Mexico, however, offers lessons about how to grow in a coherent, effective way: the cement producer CEMEX.
CEMEX is the subject of a new roundtable story, "CEMEX's Strategic Mix," a discussion among several of its senior executives that was instigated by a Strategy& research project on coherent companies. Strategy& asked me to comment on the roundtable because of my ongoing study of the company. I first came to know CEMEX in 2000, when I wrote a Harvard Business School case study on it. I have continued to track the company and its progress ever since. I was originally drawn to CEMEX because, according to the academic literature, cement was the type of industry in which one shouldn't expect to see multinational companies. CEMEX, by far the most profitable of the multinationals in the cement industry, seemed like the ideal case to study to understand this anomaly.
CEMEX, unlike its top competitors, was also an early example of a multinational from an emerging market. Mexico, like many other developing economies, still hadn't generated much outbound foreign direct investment (FDI). And the bulk of its investment was concentrated in the United States — the destination for more than 80 percent of Mexican exports. But CEMEX bucked this pattern: By the 2000s, it derived more of its sales from its foreign operations than (the few) other Mexican multinationals, and it had also expanded into other Latin American countries and into Europe.
This strategy of deliberate global expansion was closely overseen by Lorenzo Zambrano, the company's CEO from 1985 until he passed away, at age 70, in May 2014. (Fernando Gonzalez, the former executive vice president of finance and administration, is now the CEO.)
The foundation of my case was that CEMEX generated a significant portion of its superior profitability from its position in Mexico. And although that continues to be true, further analysis and observation have revealed a range of other levers that CEMEX has pulled, over the years, to achieve the returns that it does. In fact, the company's management approach was so noteworthy that in my 2007 book, Redefining Global Strategy (Harvard Business School Press), I used its example at great length to illustrate how value can be created through cross-border development. CEMEX was a primary example of the "ADDING" value scorecard I developed for that book. It had succeeded in adding volume, decreasing costs, differentiating itself from competitors, improving industry attractiveness, normalizing risk, and generating knowledge.
CEMEX had accomplished all of this while fending off hostile takeover attempts (from one of its global competitors, Lafarge) and maintaining consistently high profitability levels. Those competitive and financial capabilities, along with a major program of asset sales and cost management, helped it withstand the immense pressures of the Great Recession.
The company's prowess is closely tied to the capabilities that it has built over time: industry-leading operational effectiveness, sophisticated sharing of knowledge throughout the enterprise, long-term customer and community relationship development, construction-oriented innovation, and the development of sustainability initiatives. How did CEMEX develop and manage this prowess? When Lorenzo Zambrano took over as CEO, it was a relatively diversified group of companies. Zambrano deliberately sought to have the entire enterprise create value. He narrowed the horizontal scope of business (the lines of products and services) to focus on broadening geographic scope. Over the years, CEMEX's management has demonstrated continuous commitment to its identity as a high-value, knowledge-intensive solutions provider, even as it shifted to meet changing market demands and conditions. Or as Zambrano explained in his letter to shareholders in the 2004 annual report: "We do not see volatility as an occasional, random element added to the cost of doing business in an interconnected global marketplace. We plan for volatility. We prepare for it. We have learned how to profit from it."
Cement is generally considered a commodity business that is supposed to afford little scope for engaging with customers in a distinctive way, but CEMEX has focused hard on differentiating itself. It developed a distinctive bagged cement business, for example, offered time-based delivery guarantees, and established Construrama, a network of construction materials outlets that is now the largest such network in the world. None of these was an obvious customer need waiting to be fulfilled. Rather, imagination was required to identify and exploit these opportunities.
Cement is generally considered a commodity business, but Cemex has focused hard on differentiating itself.
There definitely is a "CEMEX Way." The senior leaders of the company dedicate themselves to fostering and maintaining the CEMEX culture. As CEO, Lorenzo Zambrano used to check kiln statistics and sales data on a daily basis. This type of direct engagement at the top translated into an intensive, highly motivated, extremely competitive work ethic for the entire company.
One remarkable illustration of this work ethic is CEMEX's noteworthy success with postmerger integration (PMI). Many companies make acquisitions and quite a few are serial acquirers. But very few have the laserlike focus on making acquisitions work—and work quickly—that CEMEX has. A PMI manual covering only human resources is as thick as a dictionary — reflecting a level of detailed attention one might expect from an investment banking firm, but not from a cement manufacturer.
CEMEX continues to generate a large portion of its profits from its operations in Mexico. But given the company's high market share there, the expansion possibilities within Mexico are clearly limited. As a result, CEMEX has invested heavily in expanding and revamping its foreign-market operations. And it seems poised to benefit from some of the operations that its leading global competitors, Holcim and Lafarge, may have to divest as a condition of the merger that they announced in 2014 and are still moving toward completion.
The narrative in the roundtable explores in detail how the company has evolved during the last 20 years — from a small firm in an emerging market to a dominant global competitor. It also explains the ways in which the leaders of CEMEX are planning to use its distinctive capabilities to build an increasingly distinctive company.
Recommended stories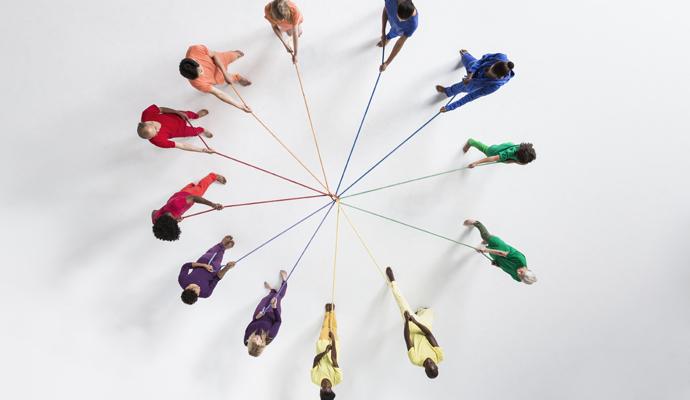 A well-orchestrated network of businesses that look out for one another creates greater value in difficult times.