Typically, cost reductions are delayed, are across-the-board (eliminate 10 percent, say, from every department) and are not oriented toward what the business design should be at the end of the reduction effort. Consequently, the effort usually fails. (See Exhibits VIII and IX.) In fact, cost reduction and internal re-engineering approaches more often than not misconstrue the fundamental nature of the problem. The point is not to become more efficient at activities that are losing customer and economic relevance, but to alter the business design in a way that matches customer demands and is consistent with the new economic order in your industry.
Exhibit VIII
The Aftershocks of Downsizing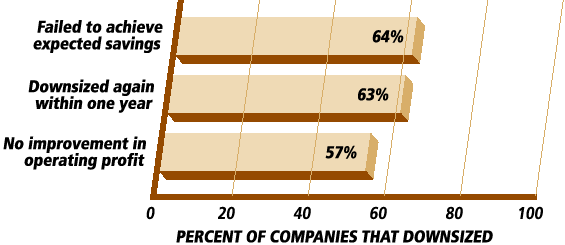 Exhibit IX
Layoffs/Downsizing and Market Valuation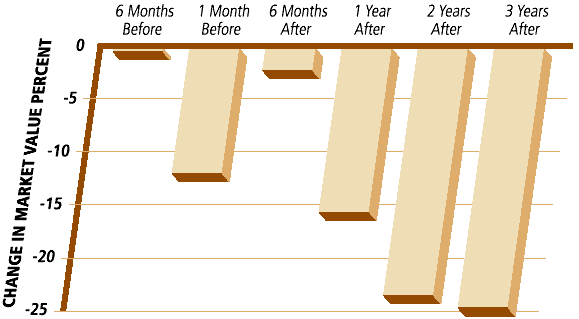 Sources: S.&P. 500 for large stocks, Nasdaq composite for smaller stocks
Changing your business design to anticipate value migration requires you to ask: Which capabilities, functions and competencies are no longer relevant? Which ones still retain their value (from a market perspective)? Which new functions and capabilities must be developed or acquired to be successful in the next cycle of customer needs and buying behavior?
The difference in mind-set and outcomes between a delayed, across-the-board cost reduction approach and a business redesign approach driven by value migration can be illustrated by two companies, both experiencing the flight of value away from traditional proprietary minicomputer design and manufacturing activities. (See Exhibit X.)
Exhibit X
Cost Reduction -- A Matter of Timing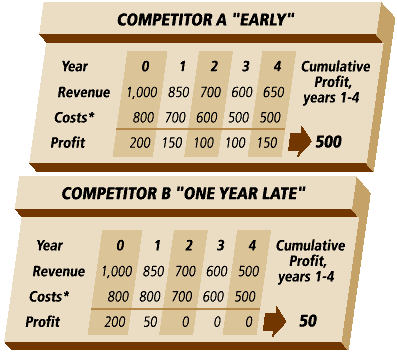 *Both competitors had a similar cost structure:
Manufacturing: $400 million
R.&D.: $100 million
Sales: $200 million
Overhead: $100 million
The first competitor, A, moved quickly to reduce costs and protect its resource-generating ability despite rapid revenue decline. The second competitor, B, continued to hope that its business would be viable, and moved much more slowly. It thus generated no resources for reinvestment in a new business design.
Competitor B's mind-set was reflected in the mix of its cost reductions. It cut selling costs by 30 percent, R.&D. by 30 percent, overhead by 40 percent and manufacturing by 40 percent -- a classic across-the-board approach. By contrast, Competitor A reduced selling expenses by 70 percent, making a traumatic but necessary shift from a direct sales approach to lower-cost distribution channels. It cut overhead by 60 percent, manufacturing by 30 percent and R.&D. by just 20 percent. Within R.&D., the mix of expenditures shifted from hardware to software, and within hardware from proprietary to open systems. By the fourth year, its strategy was generating strong new revenue and profit growth, while Competitor B's revenues continued to decline to bankruptcy.
Major, painful cost reductions are inevitable when business designs become rigid and lose their economic relevance. The best defense is to ask at the time when the strategy is set and the business design is developed, how long will this strategy and this design be good for? History shows that this crucial question must always be asked, and in today's business landscape it must be asked frequently and insistently. Crafting the right design for the next phase of value migration must rise to the top of management's agenda.
4) Begin modifying your business design before you are forced to do so. The cost reduction example above illustrates why the business redesign process is best started early, before your freedom becomes dangerously constrained. Three interrelated actions are particularly valuable here:

Practice creative under-investment in the old design. Radically cutting off investment funds for businesses that are current sources of cash flow is always a dangerous strategy. If you begin under-investing early enough, however, it is unnecessary. The key is to balance maintenance (and improvement of competitive position) against the inevitable tendency to overshoot investment in the old design. Thus, it becomes critically important to use the capital budgeting process to ask, for example: Do we need another mainframe factory, etc.? Or are we better off reducing our capacity modestly and investing to improve our cost position?